Electric Fireplaces, logs and stoves have increased in popularity over the last few years.
Electric Hearth Products
Electric Fireplaces, logs and stoves have increased in popularity over the last few years. Simplicity of installation and convenience in use are responsible for this resurgence. Electric hearth products do not need a chimney and can be easily installed almost anywhere. Because the heat output can be regulated or turned completely off, they are ideal and economical for year-round use and for the more temperate areas of the county.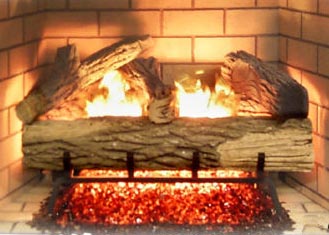 Recent advances in technology have resulted in amazingly realistic flame simulation – in fact, it's difficult to distinguish many electric fires from their gas or wood cousins. There can also be an environmental advantage to electric hearth products since no smoke or local pollution is created. Electric Cost and Use Electric Fireplaces use a very small amount of current to create their visual effects – usually about as much as 1-2 light bulbs. The cost of such a unit will be only pennies a day. Some units have optional electric heaters. The cost of operation for these electric heaters is the same as any other electric resistance heat, which is usually higher than that of gas or wood. If the heaters are used sparingly you should not see much of a jump in your electric bill. There are three basic types of electric hearth products:
Electric Fireplaces
Electric Fireplaces look similar to wood and gas models and there are countless ways to dress up and install them. One typical installation uses a prefabricated wood mantel to surround and enclose the firebox and logs. Other homeowners choose to purchase just the firebox and logs and create their own built-in look. These fireplaces are similar in size to wood models, with 36" to 42" being the most popular sizes. Many units come with standard or optional electric heaters which do a nice job of taking the chill off a room. The cost of an electric fireplace complete with logs runs from $500 – $1500. Fancy finishes, marble and other options can add to the price.
Electric Logs
These logs can easily convert a wood fireplace to electric. Simply set the logs in the opening and plug the cord in. Electric logs come in different styles, some mimicking the look of wood and others the style of glowing coals. As with the fireplaces, heaters are often standard or optional. Electric logs cost from $150 – $600 with the more expensive units often including electric heaters and a more realistic fire.
Electric Freestanding Stoves
These are self-contained units that can be installed virtually anywhere. Just plug 'em in and sit back and enjoy the flickering flame and heat. The selection of models range from the "old woodstove" look to more modern and formal designs. As with the logs and fireplaces, electric heaters are standard or optional. Electric stoves typically cost from $500 – $1000.