I have 2008 Jotul F600 that I have had since new. It has been my primary heating source each winter, and I average about 3 cord a year to heat a 2200 sq. ft. house with a very open floor plan (Maine, but well insulated and great passive solar). Two years ago I noticed reduced burn times and less control over the burn creeping in, so last year I replaced all door and window gaskets, the baffle plates above the manifold and the insulation above those. That may have improved things slightly, but the stove is clearly still sucking in air and I have been getting by with smaller fires this year (fortunately working from home these days). Fully loading the stove is at the edge of comfort and control, and I avoid doing that now.
I have done a fair bit of testing to see where air is getting in. I get the stove burning well, shut down the intake and then use incense to see where spoke is being pulled in. The gasket job I did looks to be solid, with no clear evidence of leaks around any of them. The bottom also seems to be pretty good, despite slowly seeing caulking fall out of that seam over the years. Where I am finding clear and fairly strong leaks are the joints between the sides and front above the door hinge. When the stove gets going, you can even hear one of them whistling. There certainly other spots, and I am assuming the stove needs a complete caulk/reseal job at this point.
The stove exploded view does not really provide much info about the join in question. One other details is that joint widens slightly as you move downward (about a 1/16" difference between top and bottom - image attached of joint in question). Lastly, I have strong reason to think that the stove has been overfired on at least few occasions. No point in getting into those details, but I am all but certain of it and this leaves me wondering if there is any possibility that I am dealing with warping? Has anyone seen warping of cast Jotul (I am assuming it can happen). If it happens is the stove essentially done in terms of ever being tight again?
If warping is not a concern, I was planning on pulling and re-gasketing the top this spring, and trying to get inside and check/tighten all bolts and reseal all seams. Anything else I can do to tighten this up? Thanks for any guidance.
Leak spot on both sides: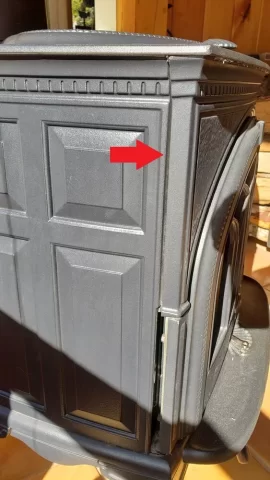 Maybe this is normal, but this is what my baffle plates looked like when changed out (at the very least I waited too long to change them):