I have been connecting pipes for the wood boiler fireplace and I'm confused about the open expansion tank set up. I may have located the pump on the wrong side. I have it on the return, just after the bypass and before the drain valve.
1. Should I move the pump to the supply side?
2. Should I eliminate the open tank and just use a closed system pressure relief valve?
I'm trying to do something like this. Except I left out the cold water return because it is much easier to fill the boiler from the storage tank side where the water is located.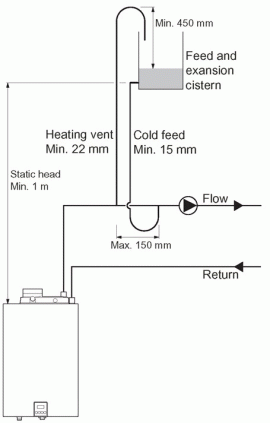 I have the pump on the return side--I read that it is better for the pump to be on the cold side, but pushing the water into the stove instead of pulling it away from the stove makes me think the water will go right up into the expansion tank and keep on filling it until it overflows. Would it be different if the pump were on the hot side? Would a cold water return from the overflow tank help avoid the pump sending water up the vent pipe?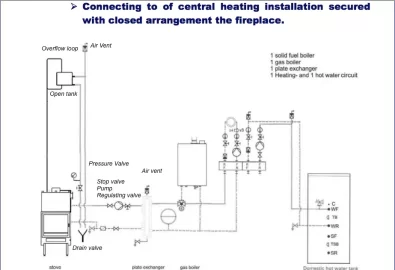 I am using a storage tank and a plate exchanger from that tank to the heating system.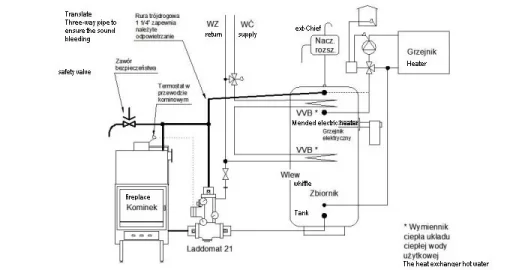 Could I forget the open expansion tank and just try installing a pressure relief valve? The directions specifically state that the boiler side should be open though. This is how the overflow pipe will connect to the stove--into the upper pipe. The lower one was removed and plugged after the system held air.The pipe will have a curve where it enters the overflow tank.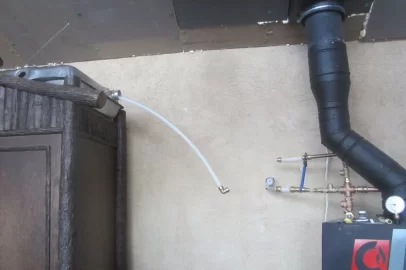 Am I correct in thinking that the pump in the return will pump water right out of the top of the system to the overflow tank instead of or in addition to the supply pipe?
By the way, I used a new gas tank for the expansion tank because it was very inexpensive--only $22 on Amazon. It has plenty of room for this system's expansion and open holes for air and an overflow drain. But it would not be missed if I switched to a closed system on this side. Just hesitant to go against the directions. A non-pressurized boiler is a safer boiler.