Seeking help with connecting Jotul F500 non-catalytic stove to existing masonry chimney… (pics below - pics of chimney, liner and wood stove area - my apologies they uploaded out of order and two were duplicated...)
We purchased an existing home last year. We're 3rd owners, and home was built circa 2001. We have no way of contacting the builder, or either of the previous owners. The home is ranch style, with main living area upstairs, and a full basement, which is of cast/poured concrete.
The home features an existing, freestanding, masonry chimney (brick and clay liner), which has a clay connector (thimble?) which enters the basement, through the concrete basement exterior wall.
The clay connector extends far enough into the room that an interior wall was framed around it and finished with a stone veneer. It is assumed (I plan to check but am seeking first to determine chimney adequate otherwise) that the internal clearances of combustible materials was maintained inside the interior wall. The clay connector ends flush with the ornamental, stone veneered wall.
The chimney external dimensions are ~16" inches by 16" inches square. The internal clay liner (observed from the clean out at ground level) appears to be ~7" inches ~7" inches square. (see pic below) This seems to be a non-standard size based on the research I've done – but I also am not measuring ideally since I'm doing so through the cleanout door. (see pic below) The inner measurements appear to be around:
We have received a used (very good condition, very lightly used) Jotul F500 wood stove as a gift from friends. It was in a house that they are 2nd owners of and they cannot stand smell of wood smoke, so gave it to us.
I am seeking help understanding what is needed to hook the stove up. I've tried educating myself but there is so much information it is overwhelming.
#1. My first question is, is the flue sufficient for the output of the stove which is nominally 6" inches? (Jotul states 5.90")
#2. My second question is regarding the connection of the stove to the "tee"/connector/thimble
. I have no way of knowing what exists inside the finished wall over the concrete exterior wall. I choose not to assume anything and plan to do some destructive penetration to use a small inspection camera to try to get a better idea. Having said that, assuming that there is 36" inches of masonry (which I believe is required) – can single walled 6" inch stove pipe ever be passed through the clay connector?
If there isn't 36" inches of masonry around the clay connector – are there any other options? The outer diameter of double walled pipe is greater than the connector.​
One option I'm considering is tearing the finished wall from ceiling down to below clearance required for the single wall stove passing through clay connector – if this is possible.

I guess the option of last resort would be to tear out the entire finished wall, the width of the stone veneer. The wall is not load bearing, so it is only a matter of aesthetics.​

#3. My 3rd question is, assuming that single walled black stove pipe *could* be passed through the clay connector – the connector is about ½" inch bigger in diameter.
Is this correct? I could understand a loose fit – but this is significant.
Thanks so much for any help.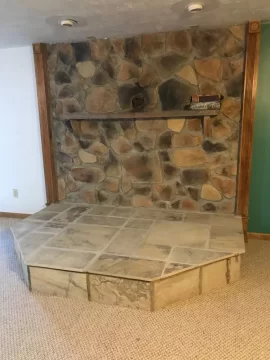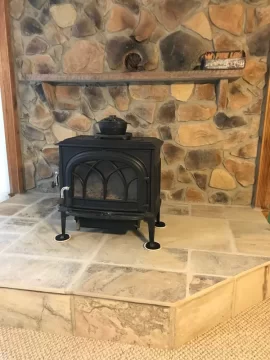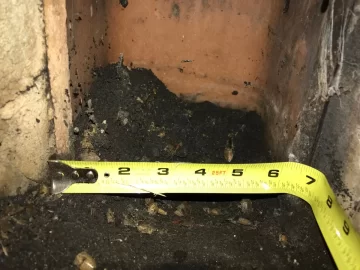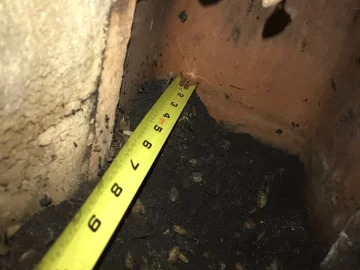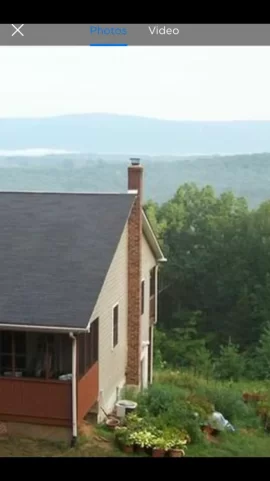 Last edited by a moderator: