Hi all,
I just got my new Regency i1150 insert installed and I've ben using it for the last 48 hours almost non-stop. It's the first time I use an an insert but not the first time I use a wood stove. I'm quite impressed with the heat coming out of this small and beautiful device.
The problem is I am surprised by the awareness required to avoid smoke spillage into the house when I open the door to refuel it. The only moment there is no smoke spillage is at the end of the burning cycle (only red coals, no flames). There is a significant amount of smoke coming out of the door when I start a kindling fire and when I do the first load it with logs. For now, I try to wait until the fire almost dies before to add more logs. Otherwise, I add the logs very quickly, with the door slightly open.
I read many threads on this forum about this issue, read articles, read the manual, watched videos, etc.
The insert has been installed by professionals. They installed a liner inside my 20 feet tall masonry chimney. They installed a new chimney cap. I live in a bungalow and the fireplace is at the floor level. The top of the chimney is higher than anything surrounding it, except a deciduous tree (no leaves in it right now) that's about 10 feet far from it and about the same height as the chimney. Could it be a problem?
The house is in a relatively flat neighborhood, with no hills around. The outside temp has been around 30 F. Not windy. I burn seasoned softwood. It's been cut down 1 year ago.
I tried all the basic tricks such as opening windows near the fireplace, stopping the blower and air extractors of the house, opening the fireplace door slowly, opening both the air intake and bypass, etc. It's still spilling smoke every time I open the door except at the end of burning cycle. Is it normal ?
Could the installer have made a mistake ?
I will contact the dealer on Monday, but I thought some of you here could help me even better.
Thanks in advance for your advice!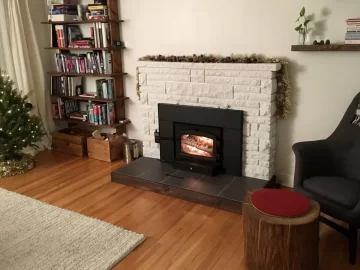 Last edited: