I read
one post
saying that the airflow locations are the same for the 13-NC (Englander) and the NC30 (and there are a lot of post about the NC30 and its 3 airflow locations). But on my 13-NC (less discussed on this forum) I can't find any holes behind the front legs.
Can anybody share the locations of the different air intakes on the 13-NC? Is it just the damper and the 3" round hold on the back? After reading many posts here about how to tame a fast burning NC30, I was hoping that 13-NC was the same and I could put magnets over the 2 small holes behind the front legs to slow down the air coming through the doghouse. I already tried covering 2/3 of the 3" round hole on the rear for the airwash (or is it for doghouse or the secondaries?), but it doesn't slow down my burn at all. The dog house still has air flying through it and it fuels heavy/glowing burn at all times even with the damper closed. FYI I have a very tall chimney and I don't think I have enough room above the stove to install a pipe damper (it's installed in a small fireplace).
I am not using legs or the pedestal - due to a small fireplace I have this sitting on firebricks which are only underneath the lowest part of the stove (the damper box). See photo. Thus I can fully access the higher areas going from the front corners to the rear corners (where the holes are on an NC30), but I can't feel any holes up in there on my 13-NC. I can't imagine that the holes would be on the underside of the damper casing, since if the bricks were covering the holes, then I wouldn't have this problem of too much air in the doghouse.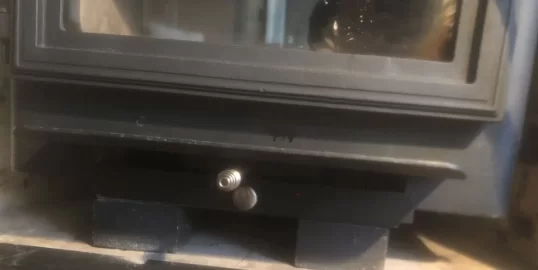 Last edited by a moderator: