Greetings! I purchased a home here in NH and it has a large stove and blower in the basement. I've never used a stove before and I am trying to figure this thing out and all I am doing is getting my basement full of smoke. I tried consulting the pinned posts for new users but none of the links work.
Little back story first - I asked the previous owner during closing if the stove was working well and he said it was and that he put 2-3 cords of wood through it each winter. After moving in I had the stove and chimney inspected and cleaned.
Today I tried starting it up and got a decent fire going inside and everything seemed ok, but as soon as I turned the blower on, smoke just starting coming out all over the place. Smoke was blowing out through each point where the stove pipe connected to another piece of pipe going in to the wall/chimney, as well as poured out from the front of the stove where the sliding air adjuster thingy (damper?) is. See picture below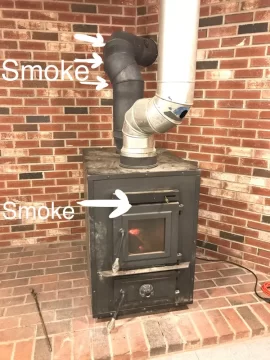 I tried turning the blower on a few different times while the fire was burning most times smoke would blow out everywhere but once or twice when I turned it on everything seemed ok and no smoke was blowing out, and hot air was cranking up the pipe and heating upstairs nicely. Sometimes when I open the door, tons of smoke pours out, other times when I open the door, no smoke comes out. I used wood that the previous owner left stacked in the yard, looks well seasoned to me as it is from last year and it's very grey/old looking.
I am mostly concerned with the fact that smoke is coming out of the piping - the guy that cleaned the chimney was brand new and it was his first time doing all of this by himself and he did remove all of the piping and cleaned it out well, then put it all back together...did he do something wrong? Or am I just doing something wrong? Just to clarify - there doesnt seem to be any smoke coming out of the piping unless the blower is on. Any guidance is much appreciated, I would like to be able to run this thing all winter and not worry about smoking my house out or burning it down!