FWIIW, an article in Nature energy discusses "The underestimated potential of solar energy to mitigate climate change"..
There is also a more readable summary in Vox that notes " In it, they review the reasons why models have traditionally underestimated PV and then try running a popular model updated with better information. The results are instructive, to say the least — if they are right, PV could potentially provide fully half of global electricity by 2050."(There is a no pay link to the nature article on the vox summary)
"The researchers hone in on three phenomena that most models fail to properly account for:
Policy support: For the most part, models can't or don't take into account the kinds of tech-specific, country- or state-level policies that have been crucial to PV's growth .....
Rapid learning: The costs for solar PV modules "have decreased by 22.5% with each doubling of installed capacity," which is a considerably more rapid learning rate than your average tech.....
Cost increases of competing clean energy sources: Models tend to be wildly optimistic on nuclear power and carbon capture and sequestration (CCS), despite the fact that, unlike PV, those technologies fall short of model projections again and again. ....."
We are at 100 GW PV worldwide and counting...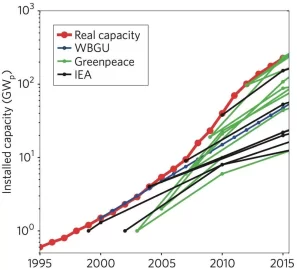 https://www.vox.com/platform/amp/en...16224582/wind-solar-exceed-expectations-again