I thought I'd start a new discussion for repairs to these controllers, as the information already on the site was embedded in other posts. All thanks to Medman in this post:
https://www.hearth.com/talk/threads/eko-40-silicon-door-seals-and-the-new-refractory-brick.88005/
I was able to find my problem.
I just fired up an Eko 40 I bought used and found it had problems with the controller. The digits for the temp display would flicker and occasionaly flash higher random temps as it was warming up, and as I got into the mid 100's it would throw an E 2 error code ( meaning over temp condition ). The boiler was no where near 195* but the circuitry also 'saw' the high number derived from the temp probe. In addition, when the temp did reach my pump launch temp, it lit up the light on the front of the controller, but I was getting no power to my circ pump. I suspect the faulty capacitor wasn't providing enough power to engage the relay that runs the pump. I've seen posts where guys got seemingly random overheats and wonder if this fail to trigger the relay is the root of the problem.
The controller mounting may be the root cause of the problem - I suspect that the 3"x3" hole in the front bonnet where the wires come thru acts as a chimney and ducts hot air into that unvented metal 'teepee' and it occasionally hits close to 200* up there, which would be the death knell for an electolytic cap ( and eventually other components ). After I get my system debugged I'll check that with my Raytek IR gun and report back.
Rather than tossing $200 at a new controller, I tried a $4 capacitor changeout and it works fantastic now. Radio Shack carried a 2200uf 35v cap in their stores ( you could also sub a pair of 1000's plus a 220 wired in parallel if no 2200's in stock ). The size of the new cap is about 4X the old, so I just soldered in a few inches of 24ga jumper wire, black taped up the exposed leads on the new cap and tucked it inside the controller housing. Making those leads 6" long would have allowed for an even better spot to place the new cap.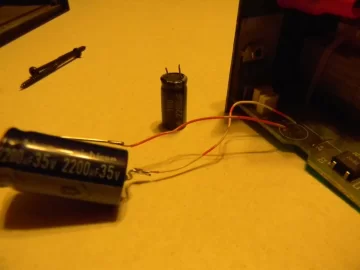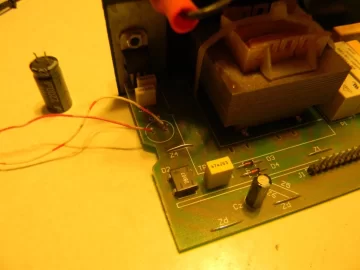 In my data quest I also found a $1 part that should be able to replace the stock $45 temp probe. I'll start a new thread on that.