After a mostly successful trial of my system to supply water to my garden from a spare surface well last year I had to upgrade to a new tank and decided to upgrade the pump. The first picture was the trial system. I was using standard bilge pump to pump out of the well which worked early in the season but as the water level dropped one pump ran out of pump head so I added the blue barrel with its own pump. So the well pump pumped up to the barrel and then the barrel pump moved the water to the tank. The tank was probably 30 years old and free but lacking a frame it would bulge out. It eventually sprung a leak on a flex point.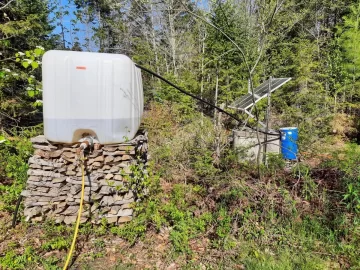 Here is the new version, the blue barrel is gone as I bought a new DC pump with higher lift (up to 220 feet)
https://www.nemopumps.com/nemo-pump/
Its connected to the three solar panels on top of the well which add up to around 180 watts in full sun (they are over 20 years old and still put out power). For now I manually turn on the pump if I need to when its sunny. There is a float switch in the top of the tank that turns off the pump when it nearly full. I would like to find a low voltage disconnect switch but all the ones I have found need a battery in the loop.
It does not put out a lot of pressure but enough to run a small lawn sprinkler in my garden. Unfortunately I have not found a soaker hose that will work long term. They flow for a few days and then stop flowing.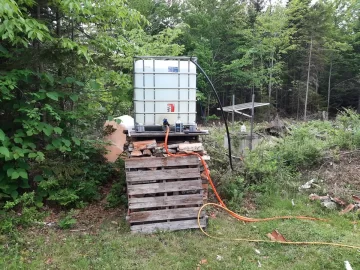 Last edited by a moderator: