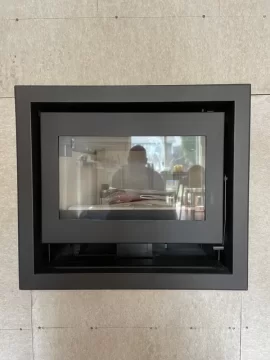 Finally had our Majestic open hearth ZC fireplace from the 70's demo'd out and are in the process of having the RSF Focus 3600 installed. I am excited to start burning with it but have a couple questions:
The install company has been around a long time and does lots of ZC installs. They've been great to work with so far.
Our fireplace is located in the center of the house and the ICC excel chimney runs up the chase, through a roof chase, single story home. The room where the fireplace faces has 8-ish ft ceilings, but the room on the other side of the wall/enclosure where the fireplace is installed has a half-vaulted ceiling. So the chimney runs through the attic and then out the roof into the roof chase.
Install looks great, passed inspection, so I'm going to be pretty confident using this for heat.
The extra cautious side of me thinks I should have an IR gun and be able to check the wall temps around the unit and on the back wall in the vaulted room for peace of mind. We went with a clean face design, and they used cement board per the RSF install requirements.
Should I worry about a IR gun? Is it advisable to check wall temp regularly?
I have read a thread where a dude was struggling with Sheetrock temps of +200 degrees and ended up needing some one-off ventilation/insulation set up to correct. I doubt I'm going to have any issues but thought I'd ask.
I also read about overnight burns. What are some best practices for that? Seems a little iffy to build up a big fire right before you go to sleep. But then again you want the house warm, so…
Anyway, thanks for any advice to a newbie