1st. Year with a stove, Harmon Absolute 43, heating a 1800sqft cape.
Problems with all the listing I have seen are that they are opinions and no actual data (vendor included), after searching on the web I came up with a gentleman who actually tried to perform an analysis (posted below) and I performed simular. Fully cleaned out the stove, size range of pellets, time to burn 40lbs of pellets, photographed burn pot before and after run, took an average of door glass temperature using a Pyrometer, description and weight of ash after single run (40 lbs).
Stove run at 70 F in automatic mode, turned off during bedtime, and restarted to hopper empty.
Here are my findings:
Logik-e softwood Pellets purchased through Pellets Dirrect.com
Purchased August with September delivery
Color lite brown, semi buff exterior
Pellet size between 7.08mm to 29.4mm
Time to burn = 18hr, 14min
Average Glass Temperature (measured at center) = 498.0 F
Ash weight (fully brushed out stove and burrn pot) = 4.9oz
Ash description = granular to powder.
Glass cleanliness = relatively clean only 20% lite brown discoloration
Clearfire Softwood purchased through Wood Pelets.com
Purchased November with December delivery
Color medium brown, glossy exterior
Time to burn = 21hr, 44min
Average Glass Temperature (measured at center) = 545.0 F
Ash Weight = 3.2oz
Ash description = powder
Glas cleanliness = 40% lite brown to black deposits.
Much more fine black ash on all interior sides of stove during cleaning.
I should add I have 4 fused vertebrae and 8 screws in my back, home delivery into the gararge was a must.
Anyone near Milleville, Ma (within 10 miles) who wants to trade me a bag of what they are running to perform simular testing drop me a message on this site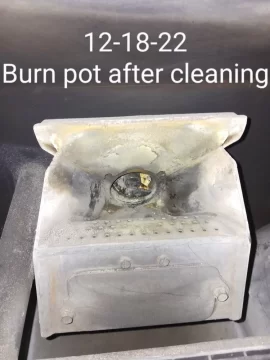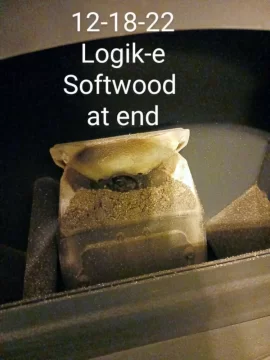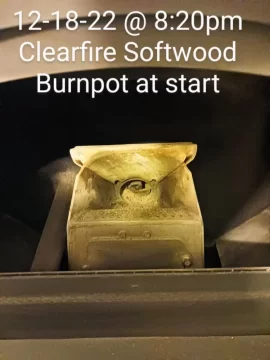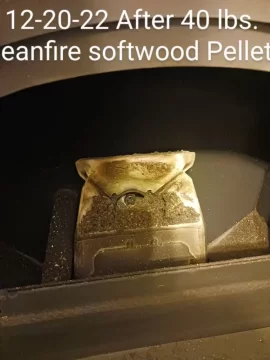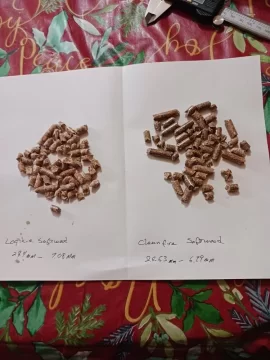 Last edited: