Almost all mini splits as well as most heat pumps are rated by the AHRI (American Heating Refrigeration Institute). The problem is they only test them at 17 and 47 degrees.The Northeast Energy Efficiency Partnership has a list on their website that has tested cold weather performance numbers down to 5F. This list is a huge asset for those looking at cold weather mini split performance where cold weather numbers are often not published/tested.
Here is my Midea unit for example. Its impressive that at its lowest modulation at 47 degrees the COP is 5.71. So its producing 5.7 the amount of heat compared to an electric resistance heater!
This chart really shows how crazy the efficiency of mini splits running at their lowest capacity is in mild weather.
https://ashp.neep.org/#!/product/26509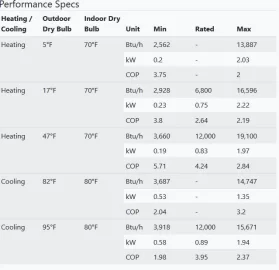 Last edited by a moderator: