Mini Split Heating at -8F​
In
another recent thread
, the subject of mini splits and heat pumps came up tangentially in a heating context. I have been heating for two seasons at my new house with a mini split, and this may be one of the last times I can report on cold weather performance with the system. Overnight forecasts were for -1F, but with clear skies we actually reached -8.3F this morning. First I will give a little history on how we did the mini split and why, and then give you the lived experience results for one nice, cold day in January.
Why a Mini Split in Zone 5A?​
I moved here from zone 6A in NE Ohio where I used a mini split for bedroom heat and cooling, so I had some experience with normal 5F rated units, which surprised me when they could keep up even in negative temperatures without much trouble. We moved in 2020, into a old farmhouse that has been renovated. It is a 1900 ft2 1.5 story, with a kitchen, bath, dining room, living room downstairs, and 3 bedrooms and a master bath upstairs. Zone 5A is considerably colder in northern Michigan, but new mini split units were also rated to -22F.
Farmhouses from the turn of the last century are usually poorly insulated, over glazed, and usually do not have central heating - this was no exception. When they renovated, they added good insulation, double pane windows, electric baseboard heat and a 25-35K BTU direct vent propane fireplace in the living room. That's plenty of heat. The house came with about half a 500 gallon tank full of propane, so we started last season with that and a few weeks in, I started calling around to get the tank filled. It was impossible – each vendor wanted an original bill of sale for the propane tank before they would fill it, or to sell a new tank to replace the perfectly fine existing one. Propane pricing has historically been very volatile, so planning and budgeting with it is not very accurate either. Most said they would sign me up at $1.60/gallon and refills at $2/gallon after they sold me a tank, which was historically pretty rock bottom pricing in real value adjusted terms. Instead I filled two 100lb. tanks to have on hand for emergency backup, ran the 500 gallon empty and disconnected it permanently. The general attitude and ethics of these companies meant propane was not a viable primary heating source in this area.
Over the long term, I knew I wanted to heat with wood as either primary or supplemental in the house, and wood-only in the barn/shop. There is enough wood on the property to heat the shop occasionally and supplement the house if I added some wood stoves/furnaces in those locations. We discussed this for several months if we wanted to go all in on the wood right away, but we decided it probably wasn't the best all-round full year solution for ease of use right off the bat. Since nothing was stacked, we'd need to buy seasoned wood for year one as well, local costs for that hovered in the range of $225-250/cord.
Electricity rates where we moved from were 13.5 cents/kWh delivered, and here they were an eye-popping 17.5 cents/kWh delivered. Armed with monthly average climate data, all the pricing figures, efficiency estimates for the propane fireplace & potential wood stoves, plus mini split COP charts, I could start making some estimates. It was fairly fuzzy math at that point since I had no idea what efficiency the fireplace was running at, and it was still early in the season – the propane ran out on November 15th. From my estimates, it would be fastest and cheapest up front to install a mini split on year one to serve the downstairs areas, and it would be only slightly more expensive vs. wood or propane to run based on what I thought I knew at the time…
Apples to Apples​
In order to get a good handle on heating costs, I needed to know how much each system cost to operate in a comparable way. I wasn't going to have the luxury of whole heating seasons to compare, so I needed something more within reach. I decided to determine the heating cost of each fuel source I used the first year based on how much energy I used per each heating degree day (HDD). This gave me a nice way to compare costs, as heating degree days quantify how much heat is needed, so by measuring how much fuel I used each period, and comparing that to the number of heating degree days in that period, I could get a good solid estimate for cost/energy per a heating degree day, which is a levelized figure – perfect for comparison. I heated for 71 days with propane, 27 days on electric resistance heat waiting for parts shipments, and the remainder of the season on the new mini split. Propane I was using 3.04 kWh of input energy per HDD, resistance electric heat used 2.04 kWh per heating degree day, and the mini split averaged 0.57 kWh per HDD.
Partial Year Cost Comparisons​
With that data, I could then compare the cost of each type of heating I used so I could get an estimate of how much money each HDD would cost me. Using HDD meant how cold it was during each period didn't majorly effect the cost comparison much, but since the mini split was used in the coldest part of the year, its estimates here are both more accurate and higher than they would be relative to the others if each type of heat was used for a full year. The electric resistance baseboard and propane both benefited from being tested in mild temperature conditions only. On propane the "first fill" rate was a very cheap kWh of energy – $1.6/gallon, each gallon is 27.98 kWh of energy, so each kWh cost only 5.7 cents! Since each HDD used 3.04 kWh on propane, each HDD cost me 3.04 x $0.057 = 17.3 cents per HDD. On the normal cost fill at $2/gallon the cost is 7.15 cents per kWh, and a HDD cost of 3.04 x $0.0715 = 21.7 cents per HDD. Electric baseboard used only 2/3 the kWh/HDD vs. the propane fireplace, but each kWh is much more expensive at 17.5 cents. This meant that 2.04 x $0.175 = 35.7 cents per HDD make it very expensive indeed! The mini split really kicked in for those free therms, and even though each kWh is expensive at 17.5 cents each, it used them very judiciously for a final price of 0.57 x $0.175 = 10 cents per HDD, by far the cheapest even with the dirt cheap propane last year. Keep in mind this is the
seasonal average
, from December until heat stopped being used around April/May.
Forced Austerity and Comparing Incomparables​
If you're very very keen, almost immediately you'll see that those numbers sound… off. Mini splits are
not
that cheap to run especially on expensive power! How did you use so much propane! Etc, etc. The devil is in the details! Each system was helped or hurt by different factors, because each system was used
very
differently in practice.
Propane​
Propane was our first heating source for the year last year. It only has one outlet, the fireplace in the living room with a blower that circulates the heat in that room. It is probably not a particularly efficient unit, although I couldn't find specs on it anywhere - it's a Heatilator GCDC80 with a propane orifice installed. It has a neat RF remote control you carry with you so the room you're in is the one that sets the temperature. In order to heat a whole farmhouse with this method means the living room has to get hotter than you'd otherwise like it so the heat gets to all the places you want it. Zoning is nearly impossible with such a heat source. The only thing we did was keep the two unused bedrooms upstairs closed off. These factors hurt the propane results in this house.
Electric Resistance​
We started using the baseboards while we were waiting for the mini split and parts shipments to come in. The propane ran out sooner than I had anticipated. Knowing this was going to stab a knife into my pocketbook, we made some changes to our heating use to compensate. Each room has its own thermostat and its own baseboards, which meant we could heat each room only to what was needed. We split the downstairs in half – kitchen dining room and bath in one zone, and the living room in another zone. The master bedroom became its own zone as well. This zoning in combination with electric baseboard's innate 100% efficiency in turning kWh into heat inside the house with no exhaust component, meant we could reduce the kWh/HDD from 3.04 on propane down to 2.04 on electric.
Mini Split​
Mini Splits and heat pumps in general are kind of like cheating. The one we have does a 3.8 COP at 47F outdoor temperature. That means we get 3.8 kWh of heat in the house for every 1 kWh of electricity we use. This coefficient of performance drops gradually until it reaches unity at -22F outdoors, and the mini split is then no better than the baseboard. We can use the cost of the electric baseboard (COP=1) relative to the cost of the propane per HDD to calculate at what COP we should switch from the mini split to propane for heat. As COP 1 costs us 35.7 cents/HDD and propane at $2/gallon costs us 21.7 cents/HDD, at those prices we should switch from the mini split to the propane any time the mini split COP is less than 35.7/21.7 =
1.64.
If propane is cheaper, the COP where we should switch is higher, and if propane becomes more expensive, the COP where we should switch is lower. Propane is more expensive than
any
electric heat in this house once it passes 35.7 cents/HDD, 11.7 cents per kWh, or $3.29/gallon. For our mini split, a COP of 1.64 from last years pricing indicates a cut over temperature of about -2F outdoor temperatures for optimum heating cost. This year there is no optimum cutover temperature, as propane prices have exceeded its break-even price relative to electric resistance heat.
The next major factor that effected the mini split seasonal performance data was the fact that the system is undersized relative to the whole house. The one we installed was meant to be sized for only the downstairs, and as such it is a 2.25 Ton (27K BTU) unit. This is all we use for heat the past two years, even though it is not "large enough". Instead of burning more kWh to keep the house warm, we only heat the room(s) we are using and reduce the temperatures of the other zones to make sure we keep the main room the right temperature. This undersizing means we used a forced austerity model for zone demand, and that also means we can never spend more than ~$13/day or 72 kWh/day for heat, no matter what. The system is maxed out at that point, so instead of using more power, we cut the temperature of the peripheral room zones to compensate. This has a major impact on how much cold weather days cost, at the expense of losing excessive bourgeois comforts.
How it Works at -8F​
Now, for the main event. How does it feel in each room at cold temperatures? Yesterday, it was about 10F outside, so I needed to make no special zoning controls as the mini split is large enough at those temperatures. All I do is close the bedroom off during the day and open it an hour or so before bed. This morning at -8F, there is not enough heat. As temperatures drop below 5F, I have a set zoning response that I do. First, I close off the upstairs stairwell with a curtain. This keeps the entire downstairs comfortable down to around 0F, +/-. The sacrifice is the bedroom is no longer in our preferred range of 60-62F, it drops to ~55F which is a bit cool. This means it takes longer to heat up in the evening. Below about -5F it wouldn't be able to stay warm enough for our preference upstairs at night. To account for this, in the evening, we would open up the stairwell and the bedroom door, and in turn close off the kitchen/dining/downstairs bath zone and simultaneously reduce its set-point temperature. This puts more available energy in the living room/stairwell/bedroom zone. Keep in mind we zone this way because it is a 2 story house, with only two indoor heads - one 18K BTU in the living room and one 12K BTU in the dining room.
Here is how it looks in practice: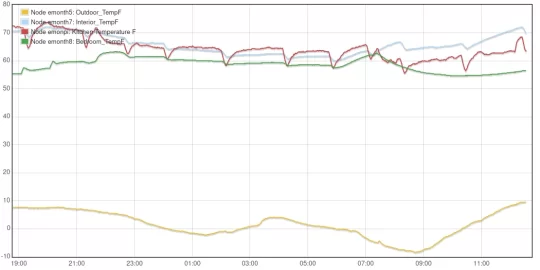 You can see from the chart above, that shortly after 7:00AM, I started laying off heat demand in the kitchen and bedroom zones to make the living room zone more comfortable. You can also see the pronounced dips when defrost cycles take place, which noticeably cools the room(s).
Another commenter mentioned the outlet air temperatures of the indoor heads as a potential comfort factor, so I threw a temperature sensor gauge in the living room head this morning to give you all some data on how hot that air feels coming out of the unit The fan is off during the defrost events but the air "falling" out of the units is quite chilly indeed: