Hello All,
After living in Nevada for a number of years and faithfully tending our then Quadrafire and going through the usage learning curve leading to using Golden Fire Douglas Fir for best results year in and year out, a move to Texas and a different stove (a Harman as shown in the avatar)leads to frustrations in terms of pellet options and even local stores within a 5 mile radius of our home such as Tractor Supply, ACE hardware and Walmart who are all Pennington brand authorized dealers do not stock Pennington Nature's Heat Pellets!🤦‍♀️
The dealer advised us that the best pellets available in the area that work best with the Harman stove are Pennington Nature's Heat Pellets so we ordered those along with the install of the stove last year. I knew immediately that these were no comparison to the trusty Golden Fire Douglas Fir. I'm a 'bug' on keeping the stove in my care clean including the deeper maintenance clean, parts replacement where necessary for annual shutdown and know that until Douglas Fir or something like it becomes available here, cleaning and scraping will be many times more frequent than it was when we were in Nevada.
Fast forward to this year and trying to order early to be ready and yet another situation with pellets! A big box store that is about 60 miles away from us can deliver pellets we order online so finding the recommended Pennington Nature's Heat Pellets listed as an available product led to my order of 2 pallets at $6.48 per bag less a 5% discount per 50 bags prior to checkout notice of 'fulfillment not available' and a call to the 'local' store 60 miles away. This led to handover of my call to someone there verifying 'Pennington Nature's Heat Pellets' were in stock and placing the order for delivery with a delivery fee of $100. After confirmation and receipt by email we were confident we would be getting what we ordered but such was not the case, instead, delivery of some other brand complete with rather large (2" to 3") black beetles wrapped in the clear plastic surrounding the mystery brand was the result which we refused after seeing that the PFI pellet fuels institute labeling did not match verbatim what was on the Pennington (or even the Golden Fire) it did not include the sodium/chloride value either and my husband said upon opening the white wrapper to double check if there were Pennington bags in there that the pellets had an odd chemical smell (sort of formaldehyde and something else?)which on checking that out was not something we smell in either of the few Golden Fire or the Pennington remainders we still have.
This refusal led to speaking with 2 separate managers of the store (who said they did not have any Pennington Nature's Heat Pellets!) including my explaining that all pellets have different performance characteristics and what works best in one stove might not perform as well in another even explaining that if it burns well there is less cleaning and trouble. 🤦‍♀️Also, the Harman has small holes in the burn pot vs. the larger holes in the Quadrafire which means it would probably be 'happiest' with the Douglas Fir pellets that are definitely available where the stove is manufactured! The old Quadrafire (Mt. Vernon) despite the auger hassles we had, was actually capable of burning corn kernels if we ever had to!
Later, trying to find solutions I decided to contact the different pellet brands and seeing that the big box store does carry 'Green Supreme' I reached out to Lignetics who said based on the area/by zip code the big box store should have the soft wood version of the Green Supreme pellets. Visiting Lignetics site though which shows various types of 'Green Supreme' and the fact that there is no detail of which version of 'Green Supreme' is carried in the store leads me to think that since hardwood type pellets is what seems available for Texas it's likely that the PFI assay label will not be as for the Douglas fir and it's anybody's guess where the big box store buys the bulk of 'Green Supreme' pellets for national distribution throughout the US!
Now it really bothers us that we may end up going back to the stove dealer and placing a 2 pallet order at $9 per bag or more since we called and they said they would have to rent the trailer to get the pallets to us if we decide to order through them this year.
In closing, I know there are supply chain issues right now, but really, does high performance pellet distribution including Douglas fir have to be this difficult?!
Thank you for reading this far!
Based in the Northeast, we manufacture high-quality, sustainable Wood Pellet Fuel. A household favorite; known for quality and reliability, our pellets are high quality, premium grade pellets made from a blend of hardwood species. Known for burning hot, clean and efficiently. Experience the new...
lignetics.com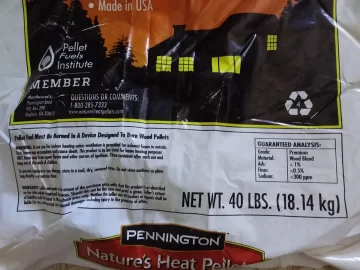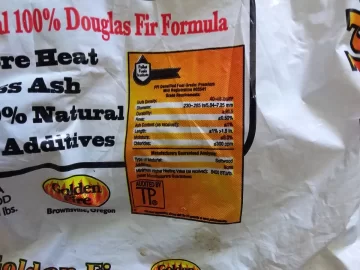 Last edited: