I did an upgrade to the project I started last summer to pump water out of unused surface water well for my garden and grass watering. When I built my house 30 years ago in my development I had no nearby neighbors and was tight on cash so I had a ground water well put in. It never ran out of water for 10 plus years but slowly the neighborhood got built out including a new house across the street upslope of my well so I put in deep well (320 feet). When I started a garden I decided to set up the old well for watering. I used run of the mill 12volt bilge pumps. Initially I just pumped out of the well directly to the tank but as the water level dropped I ran out of pump lift. I tried a different style pump but it didnt last long so I rigged up the blue barrel. I now have a bilge pump on the end of long pipe stuck down in the well near the bottom. It pumps up to the blue barrel. There is float switch in the barrel that turns the well pump off when the tank is full. I have second bilge pump in the bottom of the blue barrel that pumps up to the plastic tank on the pile of wood. It does distort a bit when full. There is a second float switch in the big plastic tank that turns off the barrel pump when its full. The solar panels are spares left over from one of the iterations of my solar array. They are around 60 watts each. Two in series feeds the well pump and one feeds the barrel pump (the well pump needs more power as it has more lift as the water table drops). The panels are 12 volt at least 25 years old and still put out reasonable power. I used up scrap I had around the house for the tilting frame.
There is no battery, everything is wired direct and it controls itself. I used bilge pump float switches hung upside down and they stick on occasion but worse case is some wet ground. On sunny day I can fill up the tank in less than a day. The pressure going out the house is not a lot. I have whirly bird sprinkler that I have to move around as it only covers about 8 foot radius. I do have a electric pump that I can hook up the outlet to run a lawn sprinkler but normally i just let gravity do its thing.
Right now its just got temporary wiring, I plan to wire it up with proper outdoor rated wire and clean things up a bit but for now its working.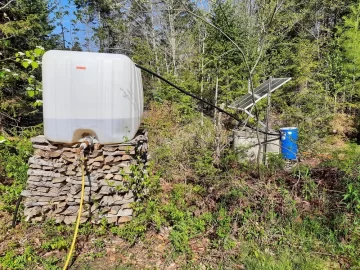 Last edited: