Been looking hard at BEV. But changed my mind after going on Trip from Newport WA to Lawton OK. Went thru Nebraska and Kansas. Only 1 Destination charger at 1 Hotel (half of it broken). No fast chargers in Lawton OK.
So I considered 2 small Pickup Trucks. Wanted Ride Quality. Loaded Trucks (Already have 2021 Jeep Gladiator PU)
Hyundai Santa Cruz or Honda Ridgeline
No Hyundai available, plus dealer markups. I thought Honda was better vehicle. So got 2023 Ridgeline Black Edition in White.
48k. Got 2k off and 1k more than I wanted for Trade in (2022 Kia Seltos SX Turbo). Finally rid of car I hit my head getting into and doors want to always come back at you. Plus no heated wheel. Having chip plastic and cremic coating done by dealer (1200). Extended the warranty to 5 years on everything. Hopefully BEV charging will be more available (no fast chargers here in our County, 2 Slow chargers at Elec PUD)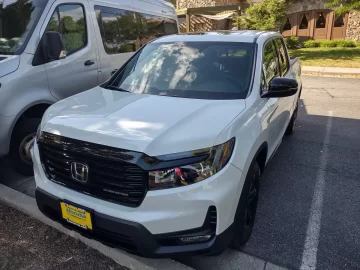 Last edited: