Hello all! I got a nice (and rusty) wood stove for free (Vermont Casting, Intrepid model).
Unfortunately, the local codes do not allow me to burn wood in my backyard, so my option would be installing a propane burner(or charcoal), from what I understand.
Some pictures of the stove's state:
current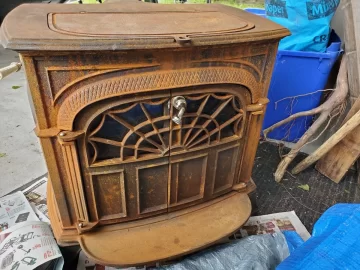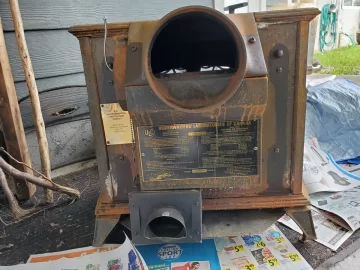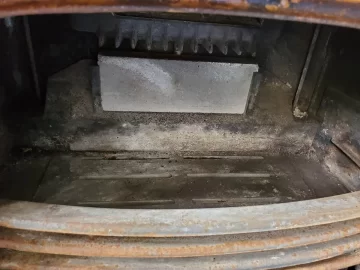 I plan to have it scuff sanded using steel wool and/or a 180 sanding sponge. Remove all grease and wipe it with mineral spirits. After that, applying the tremclad high heat paint flat finish (
https://www.rustoleum.ca/en-CA/product-catalog/consumer-brands/tremclad/specialty/high-heat-enamel
).
That's the paint that it's available in the nearby stores, and I can apply it over rusty surfaces after the sanding.
The stove also has a little bit of rust inside, but it is not recommended to use this paint in areas exposed to flames. So I am thinking about using a rust converter from rust-check. I am still waiting for their support's answer to see if it could be applied in areas exposed to high heat/flames.
That is the "easy" part. My idea is to use it outside to:
Use as a heat source for people in front of it.
Cook something? At least marshmallows.
Look good.
As I can't burn wood in my backyard, I am thinking about installing a propane pipe burner or an H-shaped one (BBQ burner). The problem is I am not sure if it is possible without heavy modifications. My main concern is where the propane hose will be inserted. Through the flue collar is the more accessible and dumber way, it looks like, for the hose will be REALLY exposed to the flames. Maybe I could use a copper pipe or something and then connect the hose in the pipe OUTSIDE the stove?
I will take pictures of the process and post it here, almost as a guide, if I execute it well.
Any advice, ideas, suggestions, links, or constructive criticism?

Thank you very much!
Last edited: