The Kent Tile Fire was the first clean burning non-catalytic stove widely sold in North America. The Tile Fire was produced in New Zealand, where an American visitor from Portland, OR named Betty Hume encountered it and saw the commercial possibilities of Kent's a clean-burning technology and beautiful appearance. The Tile Fire featured a glossy porcelain finish with ceramic tile sides that could be selected by the consumer.
Hume & Associates began importing the Tile Fire in 1980, and soon added the budget-priced Sherwood model, which was basically the firebox from the Tile Fire without the porcelain/tile outer shell, as well as the Log Fire Fireplace Insert, which was available with either a porcelain, contemporary black painted, or traditional cast iron front panel. In the mid-to-late 1980's, LEM (Low Emissions Model) Versions of the Tile Fire, Sherwood and Log Fire were created to meet the tightening US emissions standards. In the late 1980's the Ultima model was introduced, which featured a unique ceramic firebox liner instead of firebrick and boasted a 6.3 gram/hr emissions rating.
Ad describing Kent Tile Fire
Hume & Associates continued to import Kent models until late 1990, when growing competition from American and Canadian
Manufacturers
who were by then producing clean burning designs of their own, exacerbated by a prolonged dock strike in New Zealand, forced the manufacturer into receivership. The Kent brand name was subsequently acquired by Pricotech, an Australian manufacturer, who still produces clean-burning wood stoves bearing the Kent logo.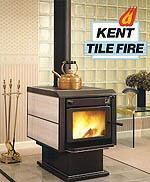 Kent Tile Brochure - Color PDF -
http://hearth.com/images/uploads/kentbrochsmall.pdf
Kent Tile Fire Owners Manual - PDF -
http://hearth.com/images/uploads/kentmansm.pdf