A very popular stove line in the time period from 1978 to 1982. The full line consisted of 3 sizes of wood stove and 1 coal unit. The first model was the Garrison I, a large steel stove with an 8" flue. This was followed by the Garrison two and three, smaller units with a 6" flue. All had rear takeoffs which allowed for easy venting into an existing masonry fireplace.
Note: Garrison also made a dual-fuel model for a short time which could burn coal as well as wood.
1/22/18 - We received a little more history on the stove today:
Robert L. McCredie Sr. founded "Garrison Stove Works". The first cardboard prototype was designed in his retail store, "The Firebox", in West Woodstock, VT. in the early 70's. With a $30k investment, the first Garrison stove was made. Over the next few years, Garrison set up manufacturing facilities Claremont, NH, Goshen, IN and Portland, OR. Within 5 years sales exceed $10m...
My father, a Yale graduate, was a sales and marketing genius. All of the Garrison manuals, brochures,
advertisements and promotional material were written and designed by him. Roger Smith was hired by
my father to set up the manufacturing facilities. The downfall of Garrison Stove Works and later
bankruptcy was a result of low oils prices after the 70's Oil Embargo…
Regards,
Robert L. McCredie Jr.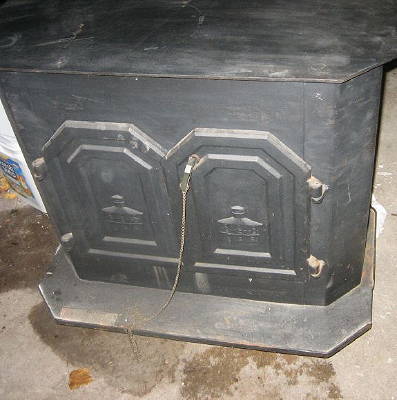 Garrison Stove Works was located in Claremont, NH
http://hearth.com/images/uploads/garrsion_two.pdf
PDF of some manufacturer data on Garrison II
- Old Garrison Advertisement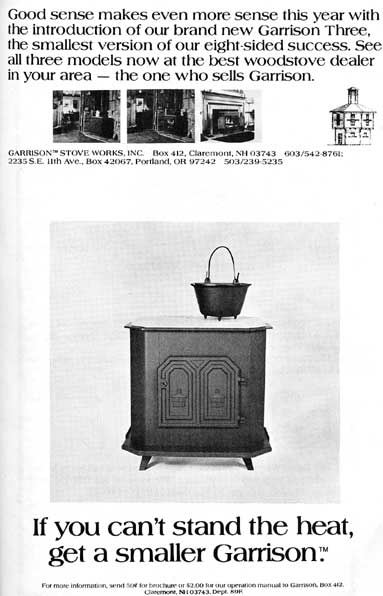 - Picture of Garrison Coal Stove