HS Tarm Wood and Combination boilers, made in Denmark since the turn of the century, were first imported into the USA in 1977 by Tekton Corporation of Conway, MA. Tekton was starter by
Walter Goodridge
, who also was the first US importer of
Lange Stoves
.
HS Tarm became a large national brand in 1979 after being featured on the cover of Popular Mechanics Magazine. The country was in the midst of the second oil shock (1978-1980), and sales quicky became brisk with thousands of boilers being sold each year. In 1982 the company was sold to Alan Koenig with the base of operations remaining in Conway.
Sales declined along with the price of oil, and by 1988 the company was barely surviving. Alan Koening placed the company up for sale and it was purchased by
Craig Issod
, who much later would start this web site [[
Hearth.com Background
. Here is a fun video of Craig demonstrating the Tarm 2000 series boiler:
and an older video of some production in the plant:
The company was moved to Medford, NJ and traded under the name Tarm USA. New products were introduced including the Excel boiler, which was a clean burning oil/wood or gas/wood unit. In 1994, the company was sold to Nichols Hardware of Lyme, NH.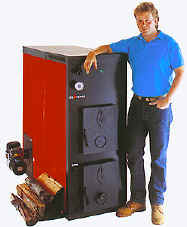 The company now has expanded into Pellet and Corn Boilers and maintains a web site at:
https://www.woodboilers.com
Files: Here are some PDF files of older Tarm Models:
http://hearth.com/images/uploads/tarmmb.pdf
- Tarm MB55 Boiler, also sold in MB35, MB45 (smaller) and MB75 (slightly larger) models.
http://hearth.com/images/uploads/tarmot.pdf
- Tarm OT55 Boiler, also sold in OT28,OT35 and OT75 models. Some of these models have the wrong numerical label on them- i.e., OT45 instead of OT50.
Popular Mechanic did an extensive article featuring installation of a Tarm Multi-fuel in 1979. The cover is shown below.