These were coal-wood models and very heavy duty.....both inserts and freestanding. They were made in upper New York State and possibly elsewhere by licensees.
It has a solid bottom door with an air control knob and an ash pan. The Top also has a solid door with an air control knob. Between the bottom and top there are grates which operate via a removable handle. Firebrick surrounds the combustion chamber. Brackets in sides to accommodate a
baffle
for the top .
8 round hole in top back half for exhaust combustion air. firebox approx.18 x 17 with brick installed.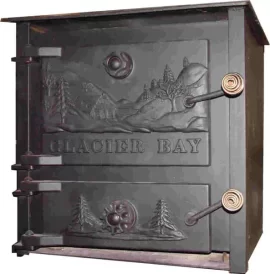 Room circulation air enters through bottom opening almost entire width of unit but only approx. 1 high, leaves through same design at top front of unit. Has legs but they are removable. Has removable heavy plates that can lay on top of shaker grates to basically close off bottom.
A removable plate goes inside the firebox, blocking the bottom half (or so) of the door opening, so that coal can be loaded in and not fall out on your feet. Slide the plate in for coal, out for wood. We shook down the fire a bit each evening (using the detachable handle) and brought the ashes out. Shake gently when burning wood, or youll end up with much less hot stuff on top than youd like. Also, be careful burning anything that may have nails in it.
Note - it is reported that a brand name called Gibraltor or Gibraltar has many of the same interior parts as the Glacier Bay coal wood stoves.
Here is a manual for Glacier Bay wood/coal
http://hearth.com/images/uploads/GlacierBay_l.pdf
Here is an owners manual for Gibraltar stoves.
http://hearth.com/images/uploads/GibraltorManual.pdf
Like