Hi all, I have lurked around here for some time, soaking up knowledge for various stove projects, but finally decided to join and participate. Below is some background on my previous stove projects and how I came upon my current project – the 1988 Efel Harmony Coal stove. I'm looking for any information or experience folks may have with this stove, especially restoration of it.
My first stove project was completed last year and consisted of a construction of custom stone hearth and installation of a Hearthstone Manchester that I bought new from a local dealer. I ran the Manchester all winter and was very pleased. Great stove, heated most of the house very well.
Recently, I picked up a rusty, old UMCO No 212 pot belly stove on craigslist and am almost finished restoring it for use as a wood burner in my workshop for next winter. While cruising craigslist in search of some bargain chimney pipe for the installation of this stove, I came across someone selling some good looking Class A pipe, plus a stove, plus every other accessory to go along with it. Although I was only interested in the pipe, the seller wanted to get rid of everything in one shot and gave me a price that I couldn't refuse. So I ended up with the pipe I wanted, a whole bunch of other accessories, and basically a free stove, which will be my third stove project and the reason for this thread.
As I mentioned above, the stove is a 1988 Efel Harmony Carbon (model 086.65). from what I gather, it is technically a dual fuel stove, but due to the EPA regs on wood stoves, could only be legally marketed in the US for coal. I have enough wood on my property to keep me well supplied, so I had never considered a coal stove before this… but since this one fell into my lap… along with 500-600 pounds of coal that came with it… I'm interested in fixing it up and eventually installing it at the other end of the house (where the heat from the Manchester has a hard time reaching).
Depending on where in the house I plan to spend most of my time on a particular day, I like the idea of having the flexibility of running either stove or both… sure, its twice the maintenance and work, but I won't have to push either one very hard to get heat where I want it quickly. Due to the abundance of wood, I'll probably use some wood in the Harmony, but am intrigued about idea of tossing in some coal for longer, burns. I expect that it will function better on coal based on what I have read, but some folks seem to get good results on a mixture of coal and wood.
Although I have found some information on this stove, it was not a whole lot, especially regarding the restoration of it. I'm curious if anyone has one or has ever restored one (or similar model). Any insight folks might have would be greatly appreciated. I try to do my homework before getting too deep into a project to avoid making costly mistakes.. have learned the hard way over the years, hence why I posted here.
I like the look of this stove and I like that it is a rear vent. I'd be looking to run it straight out – horizontally - through a wall thimble and then up two stories along the outside of the house. Normally I'm not a fan of this type of external chimney setup, but I have no choice in the situation.. this make the idea of using some coal more appealing in order to cut down on the creosote. I'll get into this more when it comes time for the install, but that is the concept I have in mind for now.
As far as the overall stove condition, it looks pretty good. See photos. It needs new glass and all new seals, but the bottom grate and grate stand are in good condition. The rear baffle (I guess that's what it is) that mounts on the inside of the flue has a small crack (yellow circle in photo). Since its only on an interior component and not on the back panel of the stove itself, I'm hoping that's not a huge issue and can be patched with some cement. The coal hopper is in decent shape, not sure if I'll end up using it much, but I may try it at some point.
Both of the rear feet are broken. The foot pieces themselves are fine, but the threaded rod they attach to is bent at one location and broken on the other. I pulled out all the interior components and inspected them. Even after spraying some of the bolts in the rear with anti-seize lube, I still broke off two bolt heads and will have to drill out the rest of them. The outer panels of the stove look good. There's some rust on the interior and a bit on the front over the door, but otherwise the outer surface looks good. After removing the rust, I'm thinking I'll finish the outer surface with stove polish as opposed to stove paint. I'll probably paint the interior and components with high temp paint.
Sorry for the long post, but wanted to lay it all out there. I'm looking forward to restoring this stove this summer. Hopefully I can gather some good advice and information from this community. Thanks in advance.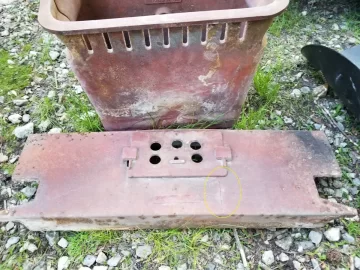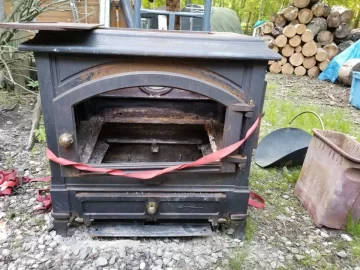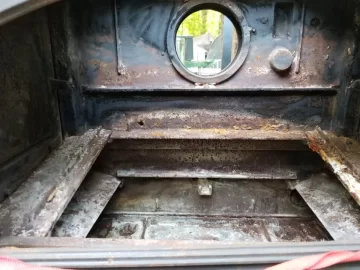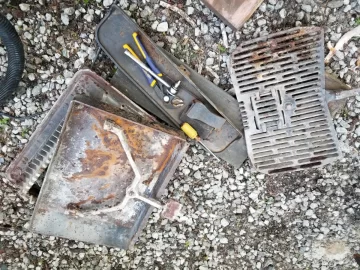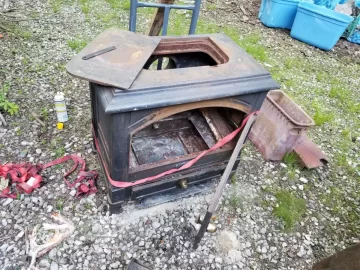 Last edited by a moderator: