Hello There,
I am replacing an old wood stove in my farm house that has an 8" flue. I am going to purchase a BlazeKing Siracco 30.2 and it is a 6" flue. After talking with the Blazeking Reps I was told they do not recommend putting an reducer on my 8" pipe into the top the the 6" stove. It was recommended that I look into using a Stainless DuraFlex 6" liner in run it thru my 8" all the way up the the top. My question is how flexible is this stuff? I have 1- 90 degree turn about 3 feet from the top of the stove out my basement wall and then another 90- degree turn to run up the side of the house to the roof.
Will this be feasible in anyone's opinion if you have worked with a similar product? The whole reason for this is my WETT inspector said if it is not recommended to drop from 8" to 6" in the owners manual then he can not pass it. I want to get this sorted out before I drop the large investment into the stove.
I have attached a pic of how to pipe comes out of the house as well as how the pipe runs out the wall with the old stove.
Thanks!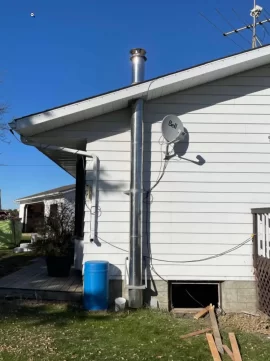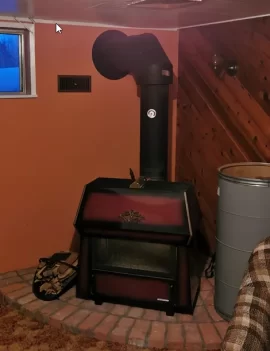 Last edited: