I'm looking for some practical advice to narrow down what direction I want to go long term on wood heating. I did wood stove heating in my last house for a couple years and really liked it. Started with a Wood pro stove to an Englander NC-30 and ended up with a blazeking princess that I really loved my last winter there.
Moved to a new house that's got an electric furnace/outdoor air heat pump/exchanger. That system was installed into the house in 2008 I believe. There's also Harman P61 pellet stove that I do the bulk of the heating with. I burned about 4-4.5 tons of pellets last year heating the house.
The house is a 2 story, 2400 sqft living and about 1400 unfinished basement with poured concrete walls and floor. Decent insulation and windows (built 1993) with fairly wide doorways and hallways. All opening between rooms on the main floor are more than 38" with most over 48". Very steep roof pitch (10/12 at least I'm almost positive 12/12) so I don't really want to penetrate the roof anywhere at the end and need 10+ft of Class A sticking out of the house. It would be near impossible to clean without a lift and it would not pass the wife eye test.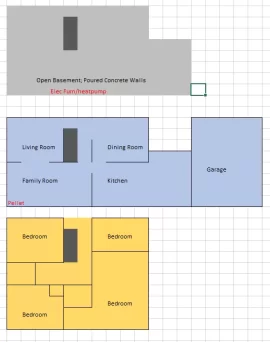 My initial plan was to pull out a partial wall that I have between the living and family room. Put my blazeking princess (currently in the garage I brought it with me) there and vent it through the wall. Up past the peak and then put a chase in. I'd end up with approx. 30' of chimney give or take between the class A and the stovepipe inside. There's half way decent airflow around the house with the pellet stove. A fan near the kitchen opening blowing the cool air into the stove room pretty well takes care of the main floor. Upstairs stays cooler which is fine for me sleeping; however my wife's craft room is up there and that means she will have a space heater going in there. The bathroom off our bedroom stays pretty cool also which isn't amazing getting out of the shower.
I'm considering if it's worth tying into the HVAC system in the long run; I'm 34 now and if I have my way I'll die here sometime a long way down the road. Do do that I've got two options; addon furnace or boiler install of some sort. My furnace is centered along the south side of the house and the ducting runs up the walls there. The addon furnace would probably need to go on the east wall because that's really the only place I can run a chimney all the way up near the center line of the house. Addon furnace question; can I effectively have the furnace 20' away from the main duct lines? If I go with an addon furnace I would look at something like the PSG Caddy or the Kumma Vapor.
My other option would be a boiler based with an air exchange phelum shoved into the ductwork above the furnace. It's pretty tight but I'm sure it can be done. I have 8' clearance in most of the basement with 7' a couple places that support beams span it north to south. First question probably with this direction is: how much room do you really need to put the phelum into the ductwork. And also how much efficiency is lost when doing the water to air exchange? I know it's done all the time but I'm not sure how much you lose in doing so. Boiler direction I'm open to investing everything from a Portage & Main/Heatmaster/Crown Royal gasser or a garn/EKO with storage and batch burning. I've got a 2.5 car garage that my truck doesn't fit in. Just keep my wife's car in it. Not sure if you can put a garn or EKO in an attached garage or if you get into the code issues with fumes, etc. I know they frown on stoves and you have to keep them 36" up perhaps? If they are treated the same as stoves I'd probably put the garn out but still look at a boiler with thermal storage in the basement. It could go along the east wall with the chimney in a chase up past the peak and water lines to the furnace.
I like the idea of the addon furnace as the cleanest way to get hot air into my existing system. However I'm not sure it'll work with my wanting to put the furnace so far away from the main ducts/returns. I'd also have to work with only 7' of height going under the supports.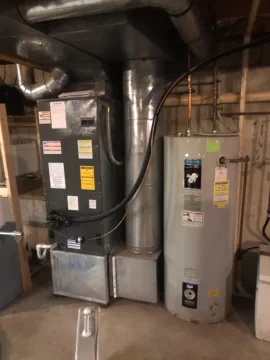 Last edited: