Howdy everyone!
I have a bit of a specific question regarding moving hot air to other parts of the house. I've searched a bunch and read a few recent posts which have been helpful and have gotten me to my current question.
Some background:
We recently removed an existing gas fireplace and installed a freestanding wood stove. The stove is an Ironstrike Performer S210. Our home is two floors, the stove is installed in the living room which has a vaulted ceiling, and this area of the house is not two floors. Going into the project, I thought getting warm air up the stairs to the bedrooms wouldn't be difficult.
Here is a basic layout showing the new stove location and the stairs that go up to the bedrooms. The bedrooms are located above the art studio and the garage.
We have a ceiling fan in the living room and are running it on winter mode. I have tried running our furnace on "fan only" with little to no increase in heat upstairs. I have tried running a box fan at the top of the stairs pointing down the stairs with little to no effect. I can get the living room and dining area up to 75ish (probably more if I wanted/tried) and the kitchen and even art studio are pleasant, meanwhile the upstairs bedrooms are low-60's.
Could I possibly cut a vent in the wall where I have the pink arrow in the above floor plan? This would take hot air from the area near the top of the vaulted ceiling and let it pass directly into the stair way. Obviously, I'd be putting the vent between studs and avoiding any other framing. Here is a photo from the kitchen area looking towards the front door, proposed vent is where I have put the red X up near the ceiling. The red X isn't exact, the vent would be in the wall up near the peak of the vaulted ceiling.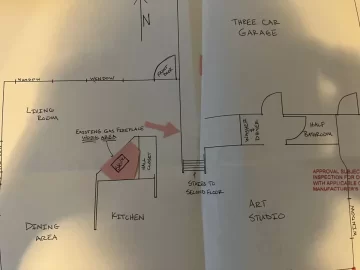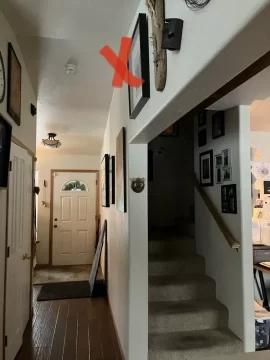 I would likely make the vent so it could be opened and closed to allow more or less hot air up the stairs. Right now the temp upstairs is great at night but a little cool during the day and especially at shower time. Being able to open/close the vent seems ideal and I could likely make it reachable/adjustable from the landing on the stairs. Thoughts? Any other solutions that I haven't tried that are less invasive than cutting a hole through the wall? I've kicked this around in my head for a few days and I don't see why it wouldn't work well.
Thanks for any thoughts!
-KT