So I bought my home with a Blaze King Princess in August 2020 and it's worked great up until a few days ago I couldn't keep a fire going when the bypass was closed. I had to work and returned today to troubleshoot.
For anyone struggling I learned my lesson
ALMOST ALL YOU NEED IS IN THE MANUAL!
I didn't read the part about getting a new gasket before removing the cat and to be honest I'm not sure the old owner did either because I seen no evidence of the old one in there that is suppose to break apart and need to be removed.
Anyway I'm rambling. The cat was filthy for those wondering and I called a dealer and he can't get me a gasket till Monday or Tuesday. He offered me a brand new Cat already wrapped I declined and decided to wait. But I asked if I can burn without the cat in for ( was told this is illegal and probably cancels any insurance) then he suggested I can burn with cat in no gasket and bypass open.What are everyone's thoughts here on this? I read running the stove like this can cause an over firing? So I thought it was weird he suggested it. All input appreciated. We have an oil furnace as well but it's slightly undersized and the woodstove is cheaper to be honest but the furnace will hold me till I get the gasket.
Part of the manual that helped me a lot for anyone that needs it
Bonus - pic of dirty Cat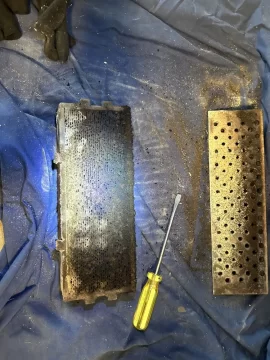 Last edited: