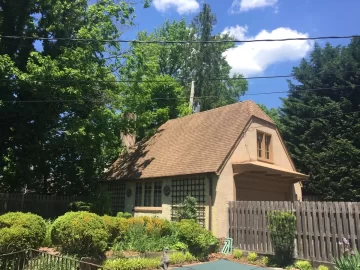 I'm looking to buy and install chimney liner, probably myself on a ~20 foot tall chimney. It's hard to see the top in these two pics, and I see that I could possibly need to extend the chimney and/or install a different type of roofing that can't burn like that asphalt might.
Anyway, this is the detached garage with a chimney that has about a 6" diameter hole in the side around 6 feet high. The garage also has a wall hung radiator next to this. I will probably install a high efficiency natural gas heater and want to out in a wood stove or just use one of the two identical Vermont Stove company 1981-82 Shelburne fireplace insert models I already have. It's nice to have spare parts. That model specifies an 8" liner, and I currently get the best fires in my 40 foot 13x13" terra cotta lined chimney with really hot fires. That makes sense since there's so much chimney to heat.
Anyway, I don't know the BTUs of my inserts, but figure I should be able to estimate it or size the liner for a wood believing stove and maybe get one of those instead of making a fireplace around this insert.
My gut says that smaller diameter will draft better whereas wider diameters might act more like a hole in the wall that can downdraft.
I see this sizing chart, and am still trying to make sense of it and figure out what the best draft might be.
Note: the enclosed chimney sizing chart is from Hart and Cooley, a major manufacturer of HT Chimney. These capacities can also be used as a guide for properly built masonry chimneys, but keep in mind that masonry chimneys only use the round or oval part of their cross-section. In other words, a...

www.hearth.com
I will see if I can get a shot of the hole in the chimney and better shots of the back side of the chimney too. I'm not living in this house, so it's a little harder than normal.