Hey all, long time lurker, but first time poster. Coming for some advice on esthetics installing a Drolet Escape 1500i.
My wife and I purchased this house this summer and have talked about renovating the two fireplaces. It was going to be a more distant project until I scored a brand new Drolet 1500 insert for $400 Canadian at a local auction.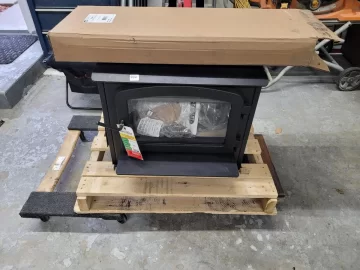 And here is our current masonry fireplace.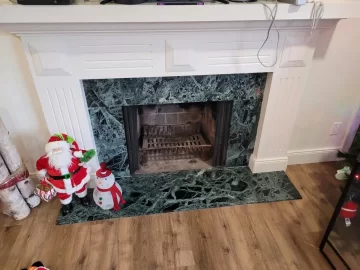 For esthetic and code purposes, would it look weird if the insert is placed at floor level? I like the idea of raising it, but not quite sure how to go about that? Build brick hearth with some kind of stone or polished concrete for the finish? Weld a metal frame for the insert to sit on then construct hearth from brick/concrete? Or leave it at floor level and make the hearth wider? This picture of a polished concrete hearth for inspiration.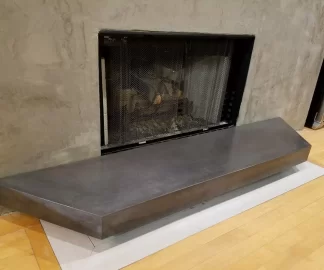 I think I would like to raise the insert off the floor about 4" and add a raised hearth. As per installation instructions, if the hearth is level with combustible floor, the hearth must be 22" minimum from the insert. If it's raised 4" from floor, then it only has to be 18". Currently, the marble hearth slab is 17.5" and the insert will stick out from the facing a few inches, making the hearth even smaller.
The current fireplace opening is 25"high. The insert is 21.25" so even if I wanted to, without demo-ing the current fireplace opening a bit, I can't raise the insert a full 4".
The mantle is definitely too close as well. Drolet says no less than 27" to any combustible materials above the fireplace at any depth, so I'll be looking to redo the entire mantle, pushing it higher.
Also, separate to this fireplace, we have another fireplace that needs a bit of a facelift. It's in a small room and won't be used to any capacity, but would like to "modernize" it to some degree. Any suggestions?