Hello All,
First time poster here. This forum is great, and very informative! I've been reading it for a while and it's inspired me to purchase and install my first stove.
I purchased the Duravent Duraplus through-the-wall kit. The thimble went in with no issues, other than that I had to purchase a 12" chimney section for the horizontal run through the thimble since my wall was too thick for the 9" section that came with the kit.
However, when I tried to attach the tee and tee support bracket, the inside flange of the tee support (where the screw holes are located) overlaps the galvanized outside section of the wall thimble by about an inch. It's almost as if the bottom of the tee isn't long enough.
Here's some pictures to illustrate the issue i'm having:
Sketch of the galvanized outside of the wall thimble. 16" square, 10" diameter hole inside to fit the outside of the Duraplus. On the galvanized exterior side there's appx
3 inches
of distance from the hole to the lower outside edge.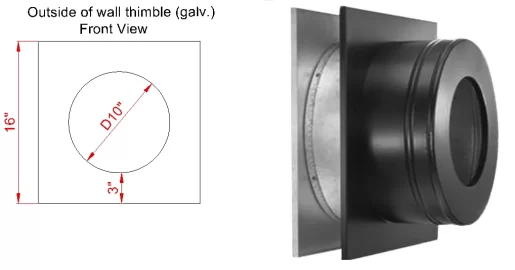 Below, here's a picture of the tee attached to the tee support bracket. There's only about
2 inches
from the top of the tee support bracket flange to the outside of the horizontal Duraplus that goes into the thimble. This means that there's about 1 inch of overlap between the bracket and the thimble, so I can't get the bracket flush with the wall of the house since the thimble is in the way.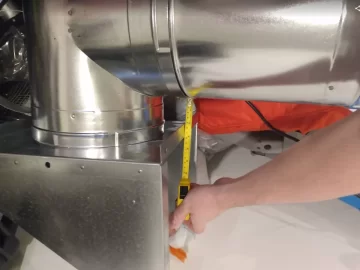 I was wondering if anyone could provide guidance on this. Of course, I could just cut the bottom of the thimble to create the clearance, but I want to avoid this since it would no longer seal against the exterior house wall since it doesn't sit flush but has a flange around the sides.
For comparison, here's a picture I found online of an installation of the same through-the-wall kit (not my house or my picture). There is no overlap between the support bracket and the thimble, and it almost looks as if the tee section extends a bit further downwards than mine does.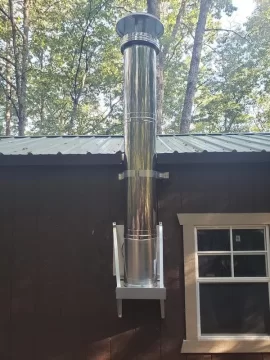 Do I need some sort of spacer to increase the distance between the top of the tee support bracket and the bottom of the horizontal pipe coming from the tee? So that the top of the tee support bracket does not overlap the outside edge of the thimble.
I was wondering if I could use the spare 9" DuraPlus segment for this, by attaching it to the bottom of the tee, then attaching the tee support bracket to the bottom of the 9" segment. I would just need to drill a couple holes in the bottom so that the cleanout cap could be attached. Would this be an acceptable setup, or would it create any issues with draft or safety?
Thanks for any help