Hello all and thanks in advance. I'm in the process of installing a new pacific energy alderlea T4. I'm putting it on a 12 inch hearth And a rock surround. (12 foot wall behind the stove will be all rock, 9.5 inches of the front of the hearth will be rock plus a 2" hearthstone)
This hearth sits in slightly off center in a living room. There is a door wall next to where the stove will sit- on the other side of that door wall (same wall as stove) is the dinning area.
Hope that all makes sense. I uploaded a pic if that helps. (Pretty much that whole back wall will be stone (from a little past the edge of that hearth up) That piece of cardboard is the tv and there is a built in faux mantle going under the tv- I built it into the wall to give me that extra 3.5 inches. My DVD player, etc will go in there. It will look like a wood mantel but the front will be a hinged door to give access to the electronics)
so my question; because you will be able to see the back of the stove while in the dinning area / kitchen I'm not in love with plugging in the blower to the back wall. I'm really trying to keep this clean and a black cord running from the stove to the wall is not a clean look! (Not to mention the plug in the stone wall isn't the easiest to make look right)
What are my options?
I was thinking of putting plug on the hearth, facing up. Not ideal and I still have a wad of cord back there. Not sure how close I can put a plug on the floor like that?
I was also thinking of running a piece of metal conduit up from the floor close to the rear leg of the stove. I'm on a raised foundation so I could easily run the conduit under the house to a junction box or plug. Id need to cut off the end of the plug from the blower so might just be easier to run into into a J box. (Could just put a switch on that too- I could kill power to the fan with a switch, dedicated breaker or just put a new plug on and plug it in under the house) The fan has its own controls so I'd rarely need to cut power to it.
Im I overlooking any other options? Any reasons I cant run the conduit?
It would pass through 2" concrete hearthstone, .5 inch hardibacker (could cut back the plywood under the hb) then through an open 9 inch raised hearth pedestal and through the subfloor- could cut that back too and run it through sheet metal so it's not touching the subfloor)
thoughts?
(also planning on putting in a fresh air duct through the hearth so it wouldn't be hard to run that condiuit next to that and paint both black)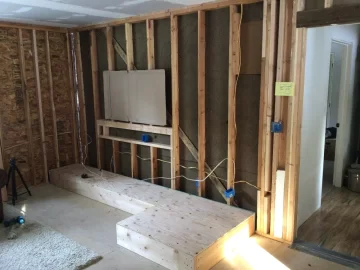 Last edited: