Hi, all-
I'm trying to better understand the notes from an inspection of my 1970s stone fireplace. The inspection notes two underlying issues in need of patching:
a lintel gap
an old "flue base" (for a flue damper which has since been removed and replaced with a top flue damper)
I've attached a picture looking up from the fire box, with the picture oriented so that room that I'm standing in/interior wall is towards the bottom. My general understanding (sorry, I'm new to this) is that it's undesirable (to put it mildly) to have any smoke escaping towards the front interior wall rather than up towards the chimney, and that thus the sweep was noting that fireplace mortar needs to plug the two gaps I've identified in the picture. Is this a reasonable interpretation? (Boy am I wishing I'd stuck my head up in the chimney while he was here to ask these questions.)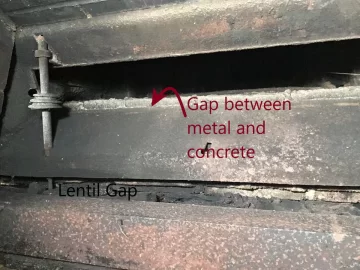 One other question, now that I'm looking around in there:
I'm surprised to see fuzzy insolation (or something similar) around the two small front walls of the fire box shown in the picture below. Can anyone identify it and let me know whether it's safe for it to be uncovered like this? It looks to the uninformed eye like something that would be potentially flammable given the texture.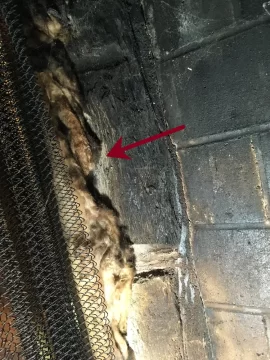 Thanks for any education you can give me!