This my second post on a first purchase of a wood stove oven, Nectre N350.
We intend to install the stove in front of an unused door leading outside. I intend to take out the door and rebuild a wall that will be behind the stove. Rebuilding the wall the gives me the opportunity to build the wall to confirm to the requirements suggested by the manufacturer.
We are in Japan, so I am taking information from both the North American literature as well as the Japanese literature. Requirements are not that different, so I am attempting to incorporate both requirements.
We will be using 6" double wall insulated pipe.
The Japanese literature (PDF with English notes included) states that I can maintain a small clearance (85 mm or 3 3/8" ) to a wall with heat shield and noncombustible finishes with a 1" air gap (bottom row of the Wall specification column).
It seems that the North American literature does not list any clearances using a heat shield and air gap.
We are looking at this product for a heat shield:
DIXNEUF heat shield
Which states that the material is calcium silicate and steel. The installation comes with standoffs for a 1" air gap.
As for the construction of the wall, I intend to use 2 x 6 studs to match adjacent wall construction with an interior panel of 1/2" calcium silicate board instead of drywall.
So, from inside to outside:
[Steel heat/ calcium silicate shield] -> [1" gap] -> [1/2" calcium silicate board] -> [fiberglass insulation] -> etc.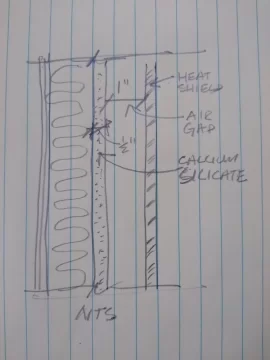 We have no problem with clearances from the sides of the stove.
Am I missing something critical about this design?
Thanks in advance for any comments, criticisms, recommendations.