I have a Defiant Encore 0028, from 1995. I've always kept a lovely old stainless teapot on top, to humidify the place. I always park it off to the side of the griddle, and it merrily bubbles along. I fill it to just below the snout so the water level won't block the opening and build up steam and push water out onto the stove. I've occasionally had some little splashes but only so that the small droplets danced across the griddle and were gone quickly.
Today I must have filled it too high, and the fire was nice and hot and it did a big belch, with more water than I ever saw, a real splasher, and it ended up with standing "puddles" the size of a dime to a quarter, scattered over the enamel surface. The dried away faster than I could get to them to wipe them off, and now they have left splotches all over, that a dry cloth doesn't touch. The thing is that the water in the pot accumulates minerals from the well water we have -- I don't empty it when it gets low, and refill with fresh water. I just add more when it gets low. So those standing puddles contained "enriched" mineral water if I can put it that way. So the remaining mess amounts to dried out mineral stuff. They are faint but they look awful.
So ... advice on cleaning? The manual says if you MUST remove spills, use ONLY a kitchen appliance cleaner and polish specially formulated for enamel surfaces.
Well, that's outside of my knowledge. I've googled for kitchen appliance cleaner formulated for enamel surfaces, and not sure any of the hits are exactly what VC means in the manual.
I always just use PineSol for cleaning, but no idea if it fits the specifications.
Here's a couple of shots, I tried to get the lamp to show the surface so you can see what I mean.
The first one is a clear area that didn't get spilled on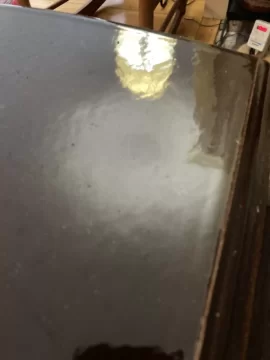 And this catches some of the dried up splotches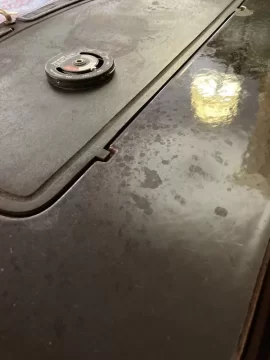 Last edited: