I bought a home with two wood fireplaces, and realized pretty quickly they are almost unusable with smoke filling my house. After a bit of research, I think the main issue is the chimney pipes they used: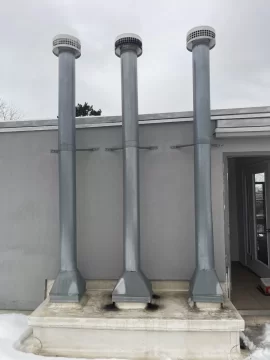 The middle chimney is the main floor fireplace, located one floor down. It's a straight shot to the fireplace below.
So far, I've tried making the fireplace opening (51" x 24") slightly smaller. This seems to have helped quite a bit, but I'm thinking the main issue is the chimney pipe being non-insulated (it's very hot to the touch with a fire going).
Am I on the right track here? Could I replace that stack with an insulated chimney pipe like DuraVent to help with the smoke draw?