I was up several times a night wondering what was missing. I found this from an earlier model, it happened the least costly was from an Aussie model, Grand Voyageur, I believe. I shopped around for the best price, about a hundred dollars last season, after perusing downloads of several parts manuals from earlier, more flamboyant eras in wood heat. The appearance is fairly common like the ACC control, but the unneeded attached mechanism was quite heavy duty and well constructed. Sadly there was some cutting and welding, drilling, tapping and grinding needed, but the results were well worth the effort.
I am no longer up several times a night wondering what it was missing. Of course, I always leave the knob in the up position, as moving it would impede air flow, and that would not be in the spirit of our benevolent leaders. I would not recommend anyone else try it, but if they do, the complex mechanism should be removed to prevent uninitiated users from misusing the mechanism and corrupting our planet. I thought others may appreciate my one of a kind customization efforts.. I am a car guy and subscribe to Hot Rod Magazine.
For the interior, beautiful soapstone fire brick from a Green Mountain 70 lent colorful accent to the interior.
I am much happier with the change from my 40 year old hydrohearth hydronic heat exchanger to an air to air insert now.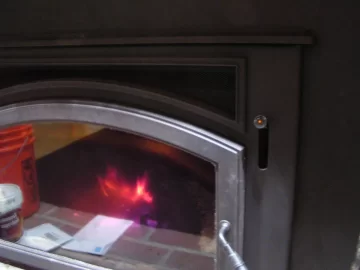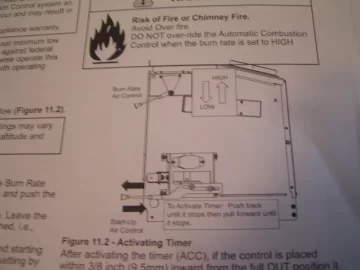 Last edited by a moderator: