We are coming to the close of our 3rd winter burning the Jotul Oslo as our only source of heat. I do have a heat pump but have never turned it on for heat, just for a/c in the summer. Here's the specs:
Jotul Oslo
I ran metal ducting to exterior for outside air kit
30 feet of class A chimney, 18 feet of this is inside the house, 12 feet above the roof in a stone faced wood chase
Burning red oak, maple, and a bunch of junk softwoods I cut when I built the house 3 yrs ago
Location: NE GA mountains (Sautee Nacoochee, GA)
Open floor plan, 2000 sf, 10' flat ceiling throughout house
Bottom line: I absolutely love this stove. Caveat: For my house, and my climate, it is perfect. When I built my house (yes, I built it, with my own hands), I did a lot of studying on insulation and air sealing. I have all 2*6 exterior walls with blown cellulose, and spent a lot of time on air sealing details. As a result, the house is quick to warm up and holds heat for a long time. This is why the Oslo is perfect for me.
If it's in the 20s, and I don't run the stove for 24 hrs, the house will get down to about 65. I fire up the Oslo, and within 3 or 4 hrs we are at 75. Then I load up before we go to bed, it's 70 when I get up in the morning. The Oslo gets up to temp and starts throwing intense heat very quickly. It doesn't burn nearly as long as my neighbors Blaze King, and for that I am grateful, or else it would be 90 in my house. We routinely crack a window open when it's in the 30s, it is nice to have a little fresh air coming in during the winter when we are sealed up.
With a load of very dry red oak, the flame show is beautiful. Turn the air down, and the secondaries churn like a portal to hell. It is awesome to see the wood glow red, with no flames touching it, but a giant fireball swirling at the top of the stove.
The glass stays immaculate. The air wash system works. It stays crystal clear. When the stove goes cold, there is the slightest tinge of tan residue on the glass. If I'm feeling fancy, I clean it off. If not it burns off quickly when the stove gets hot.
I don't know how this stove would fare in an actual cold environment or poorly insulated house, but for my conditions I couldn't ask for a better stove. I need a quick blast of heat and then let it burn down. To top it off, it is a beautiful stove in my opinion, and the flame show is awesome. It creaks and pops as it gets up to temp. I like these noises. It is the sound of self reliance. When we get an ice storm and lose power, and my electrically heated neighbors start to freak out about their impending frostbite, I just sit by my Oslo with a great feeling of warmth and independence. We live out in the woods, and don't have a snow plow, so we can easily get stuck in the house for a few days without power in an ice/snow storm. It matters not to me with my Oslo and a stack of good books.
This is definitely the best investment I made in this house. I have a friend that came over and said, "It's a lot of work and mess to heat with wood". Yes, it is. And I wouldn't have it any other way.
Here's a photo of this morning's fire as I type this. Thank you to everyone on this forum that helped me choose this stove and learn how to operate it.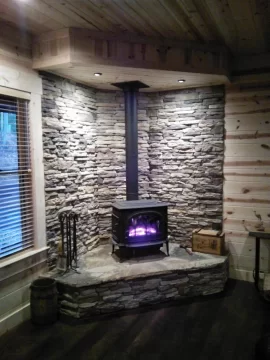 Last edited by a moderator: