Hey guys, We moved back in 2017 to a unique house with a unique wood stove setup. Since then we have determined its completely unusable and 100% poorly installed. The biggest issues are clearances where it passes through the floor, a warped section of class A stove pipe, improper adapter used at the floor pass through and no vaulted ceiling mount and again improper clearances at the vaulted ceiling.
I have one quote from a professional chimney company to rebuild the entire system to the tune of 4,700 bucks. all new stove pipe and done proper install. everything but a new stove. I priced out the parts on my end for less than half of that estimate and I figured the labor would not be too hard to accomplish on my own.
My concerns/questions are, is it possible to have a floor mounted support and a vaulted ceiling support? Wouldn't the stove pipe lengths need to be exactly perfect lengths in order for this to work? My thought is that is why he initially skipped the vaulted ceiling support when he did the install originally.
Also the stove pipe above the floor (below the vaulted ceiling IS class A (painted matte black) is it possible to buy this class A pipe already painted matte black? (my roof is black metal) I realize even the class A pipe above the floor is supposed to be encapsulated by a wall to prevent things from leaning against it. We do not have kids and that loft is rarely used so I may forgo encapsulating that however, Does anyone else have a setup like this?
I really want to get this thing ready to go by winter time, im sick of burning oil!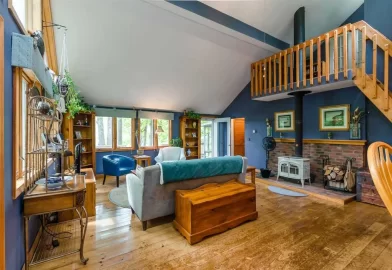 Last edited by a moderator: