In the process of assembling an order list to get all my inside piping and outer stainless chimney for my Drolet 1800, and could use some pointers from someone more experienced than I.
I am piping out through an area that was used for an old exhaust fan on the second level so I don't have to cut a new hole, it's in a convenient center point in the room and not too close to the ceiling. The stove is on the first floor and I will have a large run of interior pipe.
Through reading on here I am concerned about proper draft and having a cold spot somewhere in the chimney, also concerned about the two 90's I will need to install and how that might affect air flow in a lengthy flue.
Also, any ideas on how to achieve the proper offset outside the house to clear my 14" long peak with proper clearance would also be appreciated!! The chimney will come out directly in line with the centerline of roof, I'd prefer to maybe have two opposing 15 degree bends (guessing) somewhere that will push the pipe out roughly 17" at the peak but keep the Tee close to the house for fastening purposes. All help is greatly appreciated!
I am attaching a drawing a made from all the measurements I've taken. The stove is already in place but could be moved slightly if need be.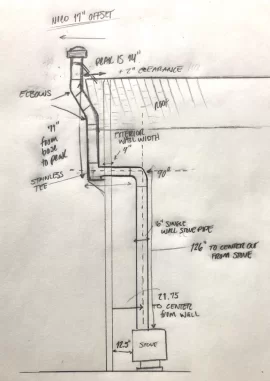 ​