We're on the cusp of getting a wood stove. The only remaining question is about "coverage". All stoves say something like "Will heat up to ______ sq. ft." However, that assumes a normal 8' ceiling height. Our issue is that we have REALLY tall ceilings in a great room where the stove would be going. So it seems like sq. footage isn't really the way to approach sizing the stove due to the volume of space. The great room ceiling at the
low end
is 13' and goes up to a peak of about 20'.
Here's a view of the space we're wanting to heat... (disregard the note showing the wood burning fire place against the west wall... plans changed)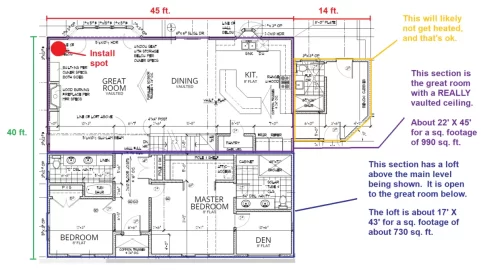 It's hard to show this 2-dimensionally, but the blue boxed stuff has regular 8' ceilings with a loft above it that looks down over the great room. Lastly, we do have a big ceiling fan right about where the words "GREAT ROOM" are on the drawing. Let me know if more clarification is needed.
My main question is this: How should we approach sizing a stove in this situation?
Thanks.