So, I've been getting reasonably competent at running the stove, based on the Condar magnetic thermometer I keep mounted in the center of the top-load door. This door is thin, and right over the fire, so it's very responsive to what's happening. It's also the hottest spot on the stove.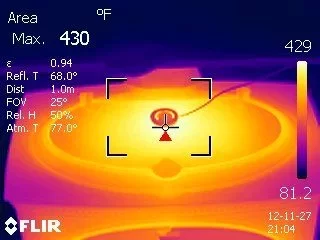 Then I got one of these little stovetop steamers for xmas: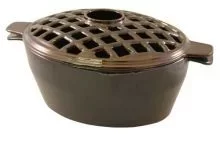 Seems the best / only place to put it is in the center of the top-load door. Now the thermo, mounted near the steamer, always reads 200'ish. No surprise.
So, moved the thermometer to a front corner of the stove top, figuring that's probably more responsive than the rear (will experiment). Seems more difficult to drive the stove this way, though, as the temperature of the corners changes way too slowly to be a good indicator of when to engage the cat. That will take some learning...
Anyone have advice on how and when to load the steamer? It's provided with warnings against letting it run dry, although it's far too small to stay full all day (boils off half way thru a typical load). I also assume putting a steamer full of cold water onto my already-hot (and thin!) top-load door is a recipe for warpage and other unhappiness. So far, I've only filled it when the stove is cooler, and let it ride up in temp with the stove on a fresh load, of course causing the above mentioned difficulty with measuring temperatures and engaging the cat at the right time.
As always, stove is a downdraft catalytic. Gotta get things going just right before engaging the cat, otherwise she stalls. This seems to be unique to the downdraft cat design.