I bought a house over the summer and learned the tough lesson of doing the level 2 fireplace inspection when the general inspector recommends it.
I planned on using the wood burning superior 1038 in my living room in the colder months but got second thoughts about using it before having a proper inspection.
Inspector noted immediately that the hearth isn't to code for a vinyl floor, chimney should be about 6 feet higher (increased to above the peak of the home) and via camera showed me signs of pipe seam separation in the chimney (due to what was likely a chimney fire), incompatible cap currently installed, and no collar or storm collar installed whatsoever (just taped over the edges). Because of this he recommended at minimum that the pipes be replaced and chimney height increased above the peak of the house with a new cap, collar, etc. This, however, is only if there is an adapter to convert the TF8 pipe on the current superior 1038 appliance to the current standard (8DM?)
He ended up letting me know that no such adapter exists for the appliance and with all work, increasing chimney height, new appliance, new cap, collars, chase, hearth would end up being roughly 6-10k, not including any interior work that might need to get done.
I am just looking to see if this inexistence of an adapter sounds accurate. I plan on getting a second opinion but I don't want to just blindly accept the words of one guy who might just be trying to make a quick buck off of me, who has no real idea what all of this means. I obviously will not be using the fireplace until something is done to remedy the issue.
In doing my own quick research after locating the original paperwork for the appliance from the prior owner, I wasn't sure if this adapter would be compatible which would enable me to just do the pipe replacement and chimney height increase.
TF8 to 8DM Adapter
I am certain that the appliance uses TF8-S/S piping in the starter section per the product information.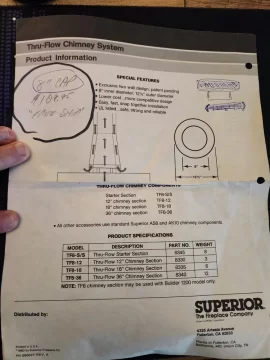 If anyone has any thoughts please let me know and please don't blow me up too much for no inspection prior to close, already hearing that enough from my fiance.
Thank you.