Hey Everyone...
I recently installed a Buck 94 NC and for the last month or so, been working on the wood pile. We have limited space so we will always be buying some quantity of wood. But we have a pretty good woodpile going so far, with the space I have.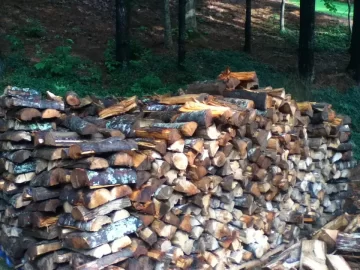 We bought wood to get us started...oak, maple, & birch? [smells like mint]. Split a few of each kind and according to the meter, all were between 14%-18%. Very pleased about that. We have it stacked on pallets and it is now covered with a tarp.
A friend of ours found us several trees and we split that and are stacking that as well. White oak, maple, poplar, & some locust...about 3 cord, give or take. The folks that delivered are wood said they could bring a splitter & for $80.00, would split it all for us. Sounded like a deal to me, so that is done now as well. Stacked and ready for winter 2017.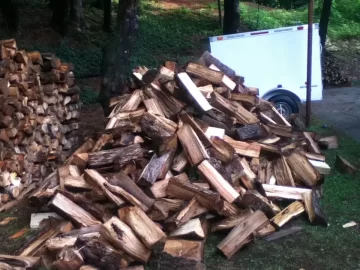 We stacked that on pallets as well and have it covered with a tarp also. The wifey was wondering how we would tell it apart....spray painted a small "x" on the stacks. Brought the kiddos outside and asked if they could tell which wood was for 2017. They looked at the piles and said, "The pile with the "x" on it?" So, my $0.02 solution worked. Not sure if that's the best way to have marked it but even the 4 year old got it right.
We have been cutting down "scrub" trees around the house, to clean up the overgrown yard. Got some maple, poplar, scotch pine, black walnut, and some holly. Have some wood I need to take a picture of because I have no idea what it is but it was hard as heck to cut. I need to call a professional and get an estimate on some trees. i have a bunch of pine trees and a couple of maple trees that ought to come down. The maple looks to have some rot at the base and a couple of pine trees are leaning toward the house. We have 2 pine in another part that are encased with English Ivy. The wifey is allergic to all ivy so the ivy has to go anyway, and the trees are almost dead from the ivy. Another pine, by the house was topped off and it has since grew back The tree is probably 50-60 feet tall. Besides insurance & references, anything else I need to look for in a tree service?
Some questions about holly. How long should it season and how burnable is it really? Also, is there a best season to burn it? I heard it was oily and/or really smoky. My other reason for asking is because it is growing like a weed around my house. Either way, i will have some additional fire wood or some fire-pit wood. Thanks!
Much of the "scrub trees" are small rounds and I have been splitting them in half to help them season better. it has been a while since I wielded an axe. Let's just say white oak is not my friend and I have discovered a lot of muscles I forgot I had. Never been a fan of ibuprofen...I am now. Also, we "de-leafed" most of the larger branches and will probably wind up with a pallet of kindling wood.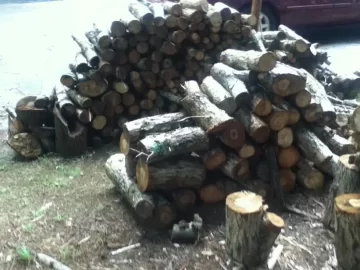 All that to say...it's July & I have about 9 cord of wood so far, excluding the kindling wood. Now if I can just stumble on some more free wood like some of you folks have...I will be maxed out on my space and then some...Thanks in advance for any help or suggestions!
Last edited: