2 years ago we bought a new house, built in the late 70's, and the first thing we did was weatherize. This was a combination of air sealing the box sills and the chimney chase as well as other protrusions in the second floor ceiling. Not surprisingly this made out house much tighter and more efficient to heat. However, an unintended consequence was that infiltration, presumably due to the chimney effect in extreme cold temps (think -20F, Vermont), took place in our Jotul Fireplace insert when it was not in use. The breeze coming from the insert is very noticeable and makes the living room in the house VERY cold. 5-8 degrees colder despite essentially being and open concept layout with the rest of the first floor (Though the living room is slab on grade about 12 inches lower then the main part of the house.) Additionally the chimney is exterior. To give an idea of the negative pressure we experience, if I want to start up the insert from cold, I have to open an exterior door, prime the flue with a torch and then light a big newspaper fireball to establish the updraft.
Here is an annotated photo of our house (with arrow pointing to the exterior chimney: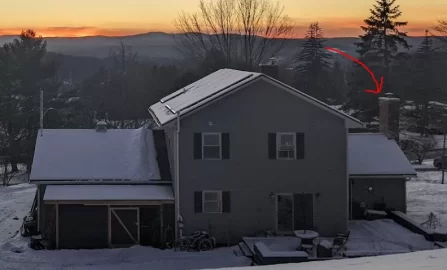 And here is the woodstove/fireplace: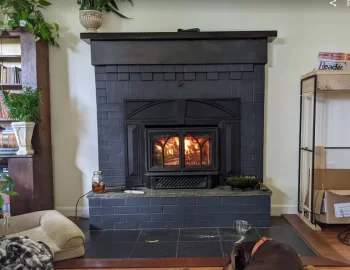 As for how to combat this backflow when the stove is not in use, I can think of two solutions: An Outside Air Kit (OAK) for the insert, or a top mounted flue damper. Each has it's pros and cons AFAIK:
Solution
Pros
Cons
Outside Air Adapter

Isolates the supply and exhaust air from the interior space.
relatively inexpensive

It can leak, allowing outside air to infiltrate, though likely much less than the current rate.
I would have to rent a coring drill to create a 3" hole through ~12" of cement brick and mortar.
I have read a lot of content (alot on woodheat.org) that argues outside air adapters a not great solutions.

Top Mounted Damper

Easy(er) installation
should provide a good seal and prevent most if not all outside air infiltration when stove is off.

expensive ($400-500 DIY price)
it's intended for fireplaces, not woodburning stoves. (to draw the top of the cap down to the closed position there is a SS cable that is supposed to pass through middle the flue liner into the fireplace. This wont work with a woodburning stove as it is sealed and reaches much higher temps...)
Would have to find a work around some how to work with a wood burning stove.
If you are still reading, thanks

! There is no clear fix that I can think of, but i also have to imagine i am not the only one facing this issue. That's why i am am posting. If anyone has suggestions, please share

I love burning wood on the coldest days. we otherwise heat with air source minisplits which are super nice until it gets down to ~-10F and have resistance heat if needed.
Thanks in advance

Last edited by a moderator: