So I've searched through the forums and read a fair amount of threads on this topic, ie: how do I get the hot air everywhere in my house?
I have, however, a bit of an unusually shaped house so I'm interested in anybody's speculation & opinions (informed or otherwise) on what things I could try.
I right now have a late 80's steel stove that will be replaced with a Woodstock Ideal Steel in just a few weeks. I do think that will make a significant difference.
The house has *a lot* of glass, but it's almost all south-facing so the solar gains are fantastic and it is usually warm all afternoon. As far as I can tell, they are not particularly leaky any more, though I've done a lot of caulking to get there. It is mostly nights and early mornings so far that I need the heat, but I'm sure as it gets colder this year I'll need more.
The house in total is around 2200 sq feet though that's a rough math estimate because the house is not just round, it is a donut.
The stove is downstairs and right now the upstairs gets plenty warm, the far reaching and even near the stove in the downstairs areas, not so much.
Here are my questions:
- there's evidence that there once was a small (30" or so) ceiling fan above the stove in the double-height space, maybe 8-12 feet above the stove, should I put it back?
- there is a ceiling fan in the "great room" with the stove- should I leave it on? Will it do anything?
- I've tried to divide the "great room" with a curtain to try and get more heat into the bathroom, that's minimally effective: any other ideas to try?
- I have a fan in the bathroom door because I though perhaps I could blow cold air out, but it's mounted high (to avoid trip hazards), is that mostly counterproductive and blowing any warm air out of the bathroom? I've read that trying to suck warm air in would not be as efficient.
There is a labeled "master bedroom" which we are not currently using because it's just so cold. My main concern is honestly just to get heat into that bathroom, which is less than 20ft from the stove itself but around kind of a corner with a narrowed hall.
Enjoy my rough sketches, let me know if you have more questions and thanks in advance for any input or creative ideas!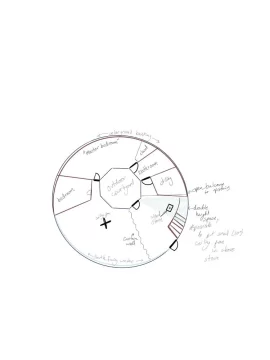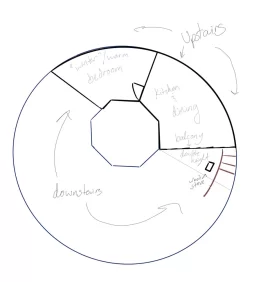 Last edited: