Note: The fireplaces being discussed in this article are made of sheet metal and have metal round chimneys. These are known by various names such as:
1. Pre-fab or Prefabricated metal fireplaces.
2. Zero-Clearance or ZC or "0" clearance fireplaces.
3. "Builder Boxes" or similar terms which denote their popularity with home building contractors.
Common brand names - with (d) representing companies which are out of business, are Majestic, Superior/Lennox, Heatilator, FMI, Temco (d), Preway (d), Martin (d) and Marco (d).
In order to avoid confusion, we will use the term "prefab metal fireplace" or prefab fireplace" in this article to refer to these built in appliances.
Since their invention about 50 years ago, metal fireplaces have become commonplace in newly built homes - in fact, so much so that 100% masonry fireplaces now account for only a small fraction of the construction market. The ease with which they can be installed as well as the lower costs involved have made them a fixture in tens of millions of N. American homes. Many of these fireplaces have aged and are often in need of upgrading in these various ways:
1. Parts replacement of components such as interior linings and chimney caps.
2. Glass fireplace doors - either replacement or initial installation.
3. Energy Saving upgrades - prefabs often spill cold drafts into the home.
4. Heat exchangers, gas logs and other upgrades relating to burning and heat output
Is it really a Prefab?
The first order of business is to determine if your fireplace is prefab or masonry. You can identify which type of fireplace you have by looking up with a flashlight toward the damper area from inside the home - wear safety glasses to avoid dust and particles! A factory-built fireplace will have a round damper and a round pipe, usually 7-11" in internal diameter. The damper plate on a masonry fireplace is usually rectangular, and approx. 6" x 24". You may also be able to ID your fireplace by looking at the exterior of your home. A masonry fireplace will should have an orange clay liner, which is often visible at the chimney top - from outside the home. The two pictures show a typical prefab fireplace inside box and cap/termination. Another hint is to look at the outdoor enclosure around your fireplace and chimney. If it is covered with siding like the rest of the home, you almost definitely have a prefab. If, on the other hand, the exterior is solid brick which extends down to the ground, it is probably a masonry chimney. Another hint is the presence of large visible louvers and black metal facing on the front of the fireplace opening - this usually means a prefab. If in doubt, have a pro check it out for you - they can also advise you on the safety aspect of any upgrades you may have planned.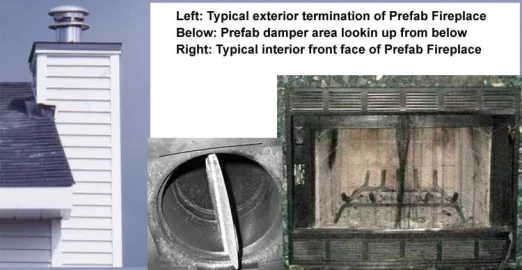 Safety First
Metal fireplaces, especially inexpensive models, do not last a lifetime! Every appliance is built with a certain life expectancy. If your metal fireplace is 20+ years old or more, please have it carefully inspected by a pro. If it is determined that your unit has worn excessively and cannot be repaired, do not proceed with the upgrades mentioned here. Your basic choices are now to either stop using it (or install electric logs) or to have the unit removed and another completely unit and chimney installed in it's place. Here are some articles and forum posts relating to that:
https://www.hearth.com/talk/threads/castine-install-loads-of-pictures.45247/
https://www.hearth.com/talk/threads/introduction-to-fireplaces.147799/
It's not only the age that matters - some prefab fireplaces have been used very little, while others have been used or even abused (rentals, firebugs, etc.).
Another step toward safety is to look for a metal information tag - often affixed to the fireplace near the bottom of the front. This will identify the manufacturer and the model and may come in handy when buying parts and upgrades.
The Next Steps
Many prefab fireplaces need small repairs on the basics. This often includes replacing or repairing the refractory cement liners and/or replacing or upgrading the grate which the wood sits on. You can easily find replacement grates made for prefabs. These are usually smaller than their masonry cousins, and should be advertised or sold as being specifically for prefabs. Replacement grates run the gamut from very thin steel models to heavy duty cast iron - with prices from $30-$100.
The buff colored ceramic floors and side/rear liners in these fireplace are made of a material called refractory cement. Small cracks, holes and gouges can often be repaired with pre-mixed refractory cement available at your local masonry supply yard, home center, hardware story or online. If you wish to replace your panels altogether, you might be able to find exact replacement parts. Use an internet search engine and search for your brand, if known…or ask your local chimney sweep. Generic panels can often be purchased and cut to size - an example is at:
http://www.efireplacestore.com/fireplace-panels-and-liners.html
If you are handy, it is also possible to cast your own replacement hearths or side panels using a castable refractory cement such as this:
http://www.rutland.com/productinfo.php?product_id=22
Chimney caps and terminations on prefab fireplaces often need replacement. The best course of action, if possible, is to find a cap from the OEM (the original manufacturer of your fireplace) since that cap is UL approved for your particular size and model. If you cannot locate a suitable replacement in that fashion, find a cap particular designed for replacement use for "air cooled" chimney - which is what most prefab fireplaces use. You'll need to have measurements taken of the inside and outside diameter of the chimney pipes, as well as the number of pipes - most modern prefab fireplaces have two walls (double wall pipe), but a few use three walls (triple wall). A well known maker of replacement caps for prefabs is ICP - look for the products designated for "round air-cooled chimneys" at:
http://www.chimneycaps.com/ICP_pages/products1.html
Glass Fireplace Doors for prefabs
IMPORTANT SAFETY INFORMATION - Using the wrong glass fireplace door, for instance a generic model meant for a masonry fireplace, can and WILL cause a house fire! I have seen this happen in a very short time when the wrong glass enclosures (doors) were mistakenly installed. PLEASE read and follow the advice below.
Prefab fireplaces are safe because they are air-cooled. The designs are varied but most models rely on a double wall chamber (one metal box inside another) and double wall chimney - both designed so that air circulates (sometimes called convection) through them. The hotter that the fire is, the more air that will circulate- therefore cooling the entire appliance. The louver vents visible on the front of many prefab models are just one part of this cooling system…there are other parts which are unseen.
Covering any of these vents or hidden air intakes is very dangerous. As a result, there are two basic options:
1. Find the doors made for your fireplace - by the specific manufacturer who made your fireplace. This is an ideal choice for newer fireplaces where the manufacturer is still in business.
2. Purchase a set of after-market doors for your prefab - doors which are made by a company which knows your fireplace model.
Again, do not buy a generic door or a door designed for masonry fireplace!
Here are some links to manufacturers who make ZC aftermarket doors:
http://www.stollfireplace.com/static/controls
http://www.glassfireplacedoors.com
http://www.thermo-rite.com/Products
Note - these companies also make doors for masonry fireplaces - make sure you look at the doors labeled ZC (Zero Clearance).
Most, if not all, glass doors for prefab fireplaces are designed to fit within a certain track already built into the fireplace - this is typically inside the louvre or vent area in the cast of fireplaces which have top and bottom or side vents.
For the ultimate in style update AND glass doors, you could look at products like the Stoll ReFace™, which cover the entire front of your black fireplace louvers - these are able to be safely installed because the manufacturer builds matching vents into the frame around the doors.
Fireplace Blowers, Heat Grates and fireplace inserts
Some prefabs have optional fans which are made by the OEM (manufacturer) of the unit. These are best installed when the fireplace is new due to the electrical work needed. In our experience, most of these fans do not provide a significant heating boost…
However, some of the aftermarket "heat grates" and "fireplace grate blowers" can do a decent job at boosting the heat output. These are usually designed for use with the doors of the fireplace opened, since the heated air must be able to project into the room. Make certain that the unit you are looking at is specifically designed for prefab fireplaces. Many manufacturers make larger units for masonry and also a smaller unit specifically for prefabs or ZC fireplaces.
There are a few small wood and pellet burning fireplace inserts which can fit into prefabs and turn them into much more efficient heating appliances. This can be quite costly ( $2500-$5000 installed ) as it requires that the chimney be fully relined with an additional pipe.
Gas Logs
Most prefab fireplaces can be refitted with gas fireplace logs. However, there are some exceptions to this rule, especially in regards to high heat output vent-free logs. The reason is that vent free logs are often used with the damper closed, thereby building up a lot of heat inside the fireplace and possibly on mantels and surrounds. One manufacturer, Heatilator, specifically states that their prefab fireplace are not compatible with vent free gas logs. There is also a code change pending which will make it against code to install ventfree logs in prefab which are not specifically tested and listed for that purpose - in other words, unless it clearly say so in the owners manual.
All things considered, we suggest looking at fully vented gas logs for your prefab. There are some modern sets which include radiant heat output and can do a nice job warming you up in front of the fireplace. Here is a link to a Hearth.com article on Gas Logs:
https://www.hearth.com/talk/threads/gas-logs-general-introduction.147654/
It is also possible to install certain models of gas burning fireplace inserts into your prefab. In this case, you will have a larger investment, but will get much more heating power and efficiency from your fireplace. A Hearth.com article on gas inserts is at:
https://www.hearth.com/talk/threads/gas-fireplace-inserts.147656/
Chances are that you will find some of the upgrades above will fit your needs. However, as a last resort your prefab can be removed and replaced with a newer and more efficiency unit (gas, pellet or wood). This will, of course, cost more than any of the smaller improvements.
Last edited: