Just bought a 20 year old Harman Accentra that will be replacing a Cozy propane space heater. I'm not sure if this is doable in this location, appreciate any input you can provide. My intention is to position it square with the exterior wall but I would consider 45 degrees if necessary.
First challenge may be the heating oil tank on the other side of the wall in the garage. It's a 2x4 wall with about R13 of closed cell foam insulation; there's sheet rock on the garage side, painted pine board on the pictured side. Harman specifies 12" from the wall if I install it square, or 6.25 if I install it at 45 degrees. I haven't been able to locate any details about whether the oil tank changes those clearances. I am considering replacing the pine boards with hardiebacker. The propane line will be removed of course.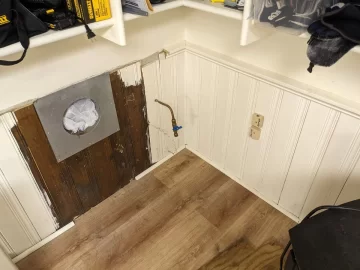 The deck and oil filler are possible challenges here - again the propane line will be removed. Is my best bet a horizontal vent without any rise? I don't think I'd be able to do a completely vertical section if I were to terminate above the deck. Would it be possible to come off the cleanout tee at 45 degrees to clear the deck then straighten it with a 45 elbow? It would look wonky but this is the back of the house so I'm not too concerned. I'm hoping to avoid a long horizontal run across the deck 😬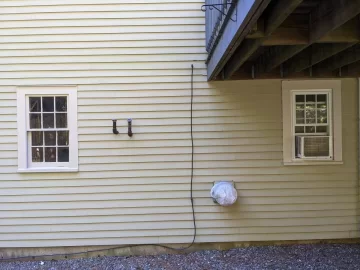 PL thimble placement will be determined by what style vent I use, so it'll either be near the floor (if I use a vertical vent) or close to where the propane thimble is now (since horizontal vent needs to be 18" off the ground). The stove specifies 3" pipe but does it make sense to go with 4" for better venting? The previous owner didn't use a tailpipe so I'll grab one of those + a new gasket. Duravent seems to be a popular product with several kits that may fit the bill. Selkirk has a very cheap option but the low price has me worried about quality.
Thanks in advance!