Hi folks. I've read a few threads on this topic and wanted to get some advice on my situation. I had a new chimney installed last year (March 2020). No previous chimney had existed in my house. The spot we picked required quite a bit of Class A pipe to achieve proper height, which you'll see in the pics. It's a straight chimney, no bends or curves.
I've noticed during heavy rains or windy rains that the attic support box will leak water. Not a lot, but enough that it's a nuisance. I hate water intrusion into my home (battle scars from past basement flooding). The water splatters onto my stove and I'm worried about eventual rust. The drips appear to be gathering in the lower lip of the support box, where the stove pipe enters the ceiling. This suggests to me that the water is coming down the inside of the chimney in some manner.
I explored the installation this week and took some photos of what I saw. The storm collar appears to be installed and caulked heavily (they did a second round of caulk at my request, so it looks pretty gnarly). The gap between the chimney and the flashing cone appears to be well covered by the storm collar...I just don't see how wind-driven rain getting up under the storm collar could be causing this issue. Here are some pics.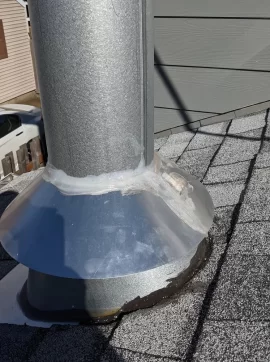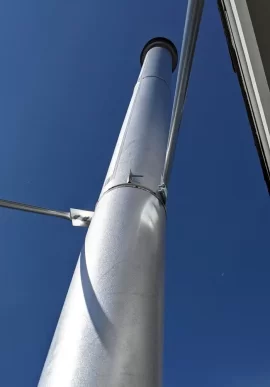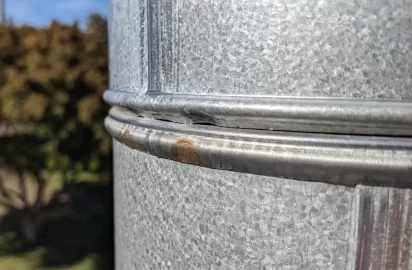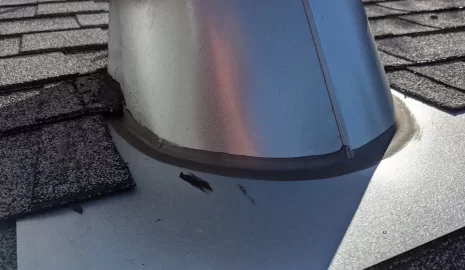 My questions for you:
Should I caulk the vertical seam on these Class A pipe sections?
Should I caulk the horizontal joints where the Class A sections are fitted together? In one of the pics you can see what appear to be fingernail sized gaps, or maybe they're crimps, where the pipes are fitted together.
Could the chimney cap be the culprit? I have considered replacing it with one of those slanted wind directional caps. It's waaay up there and I'd probably need to engage a pro to swap it out.
Thanks for your assistance.