That is reassuring to hear that the T6 door shouldn't be a battle. I swung the trivet tops out with no issue, but the door I tried at least 20 times, giving it every ounce of strength in me. The salesman had white knuckles and his hand shook a little when he did it, but he said it's fine and there is nothing to improve. I'm not sure what the v notch is? I wish there could have been more productive discussion today when I asked why it was so challenging, because if there was a way to make it work I'd get the T6.

I have torn ligaments in both hands, unfortunately no it isn't temporary. I feel like this is strange to say out loud so please don't judge me but I am a female, so my hope is that I find a likeminded partner who is already interested in this lifestyle and wouldn't mind being the wood splitter

Of course I wish my hands were more capable, it's incredibly frustrating they can't do more. For now I'll be ordering cords of seasoned wood and only using the stove by myself on occasion or during power outages etc.
Sorry to hear about the torn ligaments, they heal very slowly. And no reason to apologize.
@Dix
will be by sometime to greet you to the stove burning sisterhood.
The latch on the T6 is as simple as a fence latch. The roller on the door handle drops into a slot that gets narrower toward the bottom. Somehow during shipping the steel tab got bent in too much. The adjustment will be just bending it out a little. Takes about 5 seconds if one knows what one is doing. It just takes a little tweak to make a notable difference. If it's too loose it just gets a tap with a hammer. At first I thought it was too basic, but it has stood up well over 12 yrs and I have only adjusted it when the door gasket was gettin old. And then once again when I put in a fresh gasket. The whole stove is built this way, on the KISS principle. It keeps maintenance to a minimum.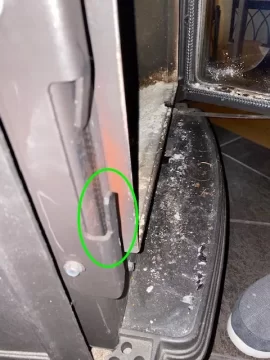 Last edited: