Craig Issod has been involved in the hearth industry since 1978 and burned wood stoves for heat starting in 1972. Having moved to rural WV and TN to escape the city life, Martha and Craig Issod quickly turned to chain saws, axes and wood stoves in order to warm their homes (well, actually their shacks and army tents, but that is another story).
Craig heating with wood in WV, 1972
After moving back to NJ in the 1974, the Issods missed the feeling of true warmth associated with Wood Heating and started shopping for a new stove to heat their small ranch house. At the time, there were no stove shops. so the Issods found a decent Atlanta Stove in a small appliance shop in Trenton. After installing a Hart and Cooley Metalvent chimney, the stove was ready to heat.
Burning wood was such a rarity at the time that the smoke exiting the chimney brought the Fire Dept. to the door one day to inquire about whether the Issods house was ablaze!
A few years later, Craig and Martha desired a newer stove - and they heard about the new "Airtight" models. Some shopping around revealed an interesting fact : You could buy one stove for $525, but buy 3 or more and a price break to $375 was possible. After some additional research, the Issods decided to set up a stove shop in their dining room and place a few classified ads.
Right about this time in history, the second oil shock hit, as well as the Iranian Hostage Crisis and the partial meltdown at Three Mile Island nuclear plant. The result was a strong market for wood stoves and the birth of [[Stoveworks (Medford and Williamstown, NJ) , a retail shop which became a leader in the industry.
In 1984, Craig purchased some of the patterns and castings of the defunct (bankrupt)
Upland Stove Co
. and commenced the manufacture of stoves in a small Medford factory.
In 1986, Craig partnered with
Richard Brown
and, G, Crowe and J. Dell Conner to develop and market the "1/2 Kettle", a patented tea kettle which fit on the narrow ledge of many Fireplace Inserts.
In 1990, Craig purchased the US and Canadian importing rights to the [
HS Tarm Boilers
] and introduced a number of new products including the Excel Multi-Fuel Gasification boiler.
Computers were always in use at the many businesses, so Craig was always learning more about these technologies. Craig taught seminars on using computers in the hearth business at the yearly trade shows and also was involved in online communities as early as 1986, well before the birth of the public internet.
CIn 1995, Craig started Hearth.com which the wiki you are reading now is a part of. The site has grown to millions of page views per month, a statistic which can be easily verified in Quantcast:
http://www.quantcast.com/hearth.com
In 2006, Craig developed a number of new products and obtained a patent for them. After development and proof of sales potential, the new company was sold in 2011.
In 2013, Craig started development on a new "drone" (quadcopter/multirotor) site, which includes a blog and is developing a forum and community. The new blog is at:
http://www.droneflyers.com
In 2014, Craig transferred the Hearth.com domain and site to Hearth.com LLC. The new owner, Jim Fischer, is an avid outdoorsman from MN as well as an IT specialist and intends to "stay the course" in the further development of Hearth.com. Craig will continue to be a consultant and active member and also offer other consulting services and more to those who want to succeed on the net and in the hearth business. See his corporate site at:
http://www.craigsfire.com
In his spare time, Craig enjoys reading, computing, writing, inventing, teaching, sailing, historic places such as Newport RI and Rosie - our Cavalier King Charles Spaniel.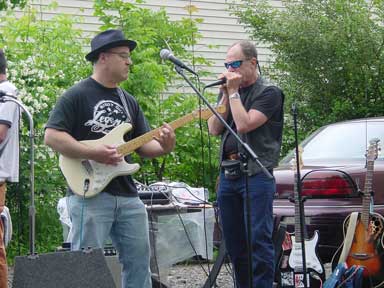 Craig plays the Blues along with hearth industry veteran Richard Brown
Craig maintains a blog - stories, tales, bs, pictures and much more at:
http://craigsfire.wordpress.com/